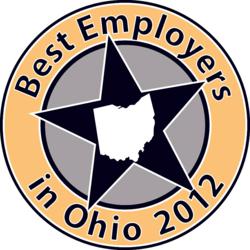 Solon, Ohio (PRWEB) April 12, 2012
CPI-HR was recently named as one of the Best Employers in Ohio for a second consecutive year. This esteemed award will be formally announced in the upcoming Best Companies Group publication.
CPI-HR is a leader in providing employee benefits consulting, payroll/HR, benefits administration and human resources solutions.
"Earning this distinction two years in a row is humbling and a compliment to all of our great people," said Jim Hopkins, CEO of CPI-HR. The company's Great Place to Work Committee plans monthly functions ranging from charitable events, team-building activities, and inter-company contests with prizes.
"Being recognized in 2011 was a proud achievement for the company which we used a springboard for new ideas and activities," said Elaine Ferretti, PHR, Vice President of Human Resources. "We're always seeking ways to improve the employee experience and have that experience positivity reflected back through our customer engagement. We believe happy employees will lead to happy customers."
CPI-HR is also currently in consideration for another nation-wide employment-based award sponsored by The Great Place to Work Institute.
Due to continued growth and expansion, CPI-HR has several new employment opportunities available. Anyone interested in a career at CPI-HR can review the current job postings here:
http://cpihr.com/careers.php
Candidates must display a strong inclination towards CPI-HR's core values of Integrity, Commitment to Excellence, and Positive Culture.
About CPI-HR
Headquartered in Cleveland, Ohio, CPI-HR's complete service offering includes employee benefits brokerage and consulting, payroll/HR services, and COBRA, HRA, HSA and FSA Administration. Additionally, CPI-HR provides robust HR Technology that offers clients the ability to bring efficiencies to their human resources department which frees up time to focus on more strategic HR responsibilities. It is services like these that help CPI-HR's clients make their employees more profitable and aware. CPI-HR is the exclusive Ohio Smart Partner® member and is a Platform Agency of Benefit Advisors Network. For more information, please visit: http://cpihr.com