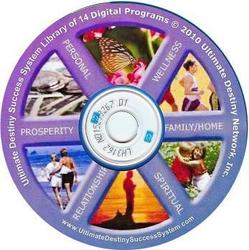 We will help provide $100 million worth of development training resources over the next 10 years to and through non-profits. Charles Betterton, CEO of Ultimate Destiny
Sedona, AZ (PRWEB) June 22, 2010
Ultimate Destinyland™ announces a new Expanding the Circle of Success campaign to (1) provide expanded access to self-help and development training programs that help people realize more of their potential and (2) to support non-profit organizations through innovative Ultimate Fundraising Programs. "We will help provide $100 million worth of development training resources over the next 10 years to and through non-profits. Charles Betterton, CEO of Ultimate Destiny "
Can you imagine a book store where there are no prices on the books or any of the other products? Can you picture being able to take home a program, try it out, and then make a donation based on the value you feel you received? That's what Pay What It's Worth to You is all about. And at this ultimate book store, 50% to 100% of any donations they receive for their products will be used to provide training programs through non-profit Community Empowerment Resource Centers.
At a recent playshop in Sedona, Az., participants were asked the question: Given the increasing economic and environmental challenges we are facing--both personally and as a world community--what skills do you think people need to successfully fulfill their ultimate destiny?
The top answers given by participants were that we need to: Awaken to our spiritual identity; Realize more of our potential; Harness our creative mind power; Flow energy to solutions rather than problems; Fulfill our life purpose and mission; Make a difference and leave a legacy; Love, serve and bless others; Maintain a positive mental attitude; Apply creative thinking and problem-solving; and Manifest stewardship over the rich talents and treasures entrusted to us by God/Spirit/Source/Creator.
These topics closely match the 14 individual interactive programs contained in the new Ultimate Destiny Success System, which was designed to help participants succeed individually and as part of the global community. The Ultimate Destiny Success System evolved out of 20 years worth of research and development, beginning with a Community Unity Celebration with Norman Vincent Peale and Les Brown in 1990. That event and later community empowerment events with other world-class trainers and authors led to the award-winning CAN DO! Resource Centers. These centers, based upon the principles of Community Economic Development that include Self-Help, Empowerment, and Capacity Building, are being replicated as a primary component of Expanding the Circle of Success.
Ultimate Destiny initially developed a single, 80-page E-book on How To Discover and Create Your Ultimate Destiny. Team members subsequently invested several years and over $100,000 for training in publishing, marketing and Internet marketing with experts such as David Riklan of Self Growth Marketing, Mark Victor Hansen, Armand Morin, Arielle Ford, and Rick Frishman. The training helped them develop the comprehensive Ultimate Destiny Success System along with membership services, webinars, live events, and audio/video programs. Through the Ultimate Destiny Affiliate Marketing Program, the organization shares information on some of the best training programs they now recommend as Ultimate Publishing and Marketing Resources.
How can Ultimate Destiny afford to offer their programs on a Pay What It's Worth To You basis AND also donate up to 100% of the donations they receive? These books were a labor of love by a team of talented and enlightened individuals who want to make this information available to the world, Betterton said. To receive the programs on a Pay What It's Worth To You basis, customers are asked to subscribe to the free Ultimate Destinyland newsletter. Then, after trying these programs, they can make a donation for whatever they feel the programs are worth to them personally.
If customers later discover that the programs are MORE valuable than the amount they paid--as this information begins to improve their lives--they are invited to share that increase to help support the Expanding the Circle of Success project. For example, if a customer receives the entire Ultimate Destiny Success System and makes a donation of $100--but they actually realize $200 dollars worth of value in their life--then they are invited to either make another donation themselves or 'Authorize the Universe' to send a percentage of that extra benefit they receive back to Ultimate Destiny.
This is a completely voluntary agreement and an energetic arrangement. Customers will not be contacted or expected to make further donations. "We believe in Universal Laws and seek to help millions of people A.R.K. -- Awaken, Realize more of their potential, and Know how to co-create their ultimate destiny. Charles Betterton". Ultimate Destiny also offers a 90-day, 100% money back guarantee on all programs and products.
Most publishers are happy to publish one book at a time, but to the Ultimate Destinyland team, that would be like opening Disneyland with only one ride. They are seeking a major publisher to print all 14 titles in the Ultimate Destiny Success System Library simultaneously, which would accelerate the process of making the information available to as many people as possible.
Several best-selling authors and other recipients of the Ultimate Destiny Hall of Fame Award are participating in the campaign to help provide greater access to resources for learning successful living skills. Their training programs will be made available as featured resources in the network of non-profit Community Empowerment Resource Centers.
Ultimate Destiny invites resource providers to submit books and programs to be featured in its products and the organization is also seeking additional joint venture partners, affiliates, and participants in revenue participation agreements. Military personnel and veterans are invited to receive any of the Ultimate Destiny programs and pay only nominal shipping and handling charges. "As part of our Expanding the Circle of Success Campaign, we're proud to make our programs available for free to military personnel and veterans to honor the contributions they make to help preserve Freedom in America. Charles Betterton"
Corporate sponsors are being sought to help provide broader distribution of the Ultimate Destiny training programs. Accredited investors are invited to review the Investment Marketing Memorandum that presents the Strategic Marketing Matrix System™ developed by Ultimate Destiny to ensure the ultimate success of its programs and products. For more information, please review the PDF documents that further introduce Ultimate Destinyland, the Expanding the Circle of Success campaign, and the Ultimate Destiny Hall of Fame Awards.
# # #