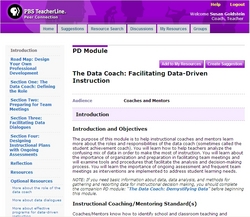 PBS TeacherLine and The School Improvement Network are committed to helping improve teaching and learning to prepare our students for the 21st century
Arlington, Va. (PRWEB) January 21, 2009
As teacher professional development across the nation becomes more customized, rather than one-size-fits-all sessions, schools need quick, easy access to high-quality resources for coaches and mentors to use on an ongoing basis with teachers. To that end, PBS TeacherLine has partnered with The School Improvement Network to incorporate new content into PBS TeacherLine Peer Connection that helps teachers turn research theory into classroom practice. PBS TeacherLine Peer Connection is an online suite of multimedia resources, instructional strategies, and tools that support educators responsible for providing onsite, job-embedded professional development to their peers.
Award-winning videos, articles, and other resources from PD 360, a leading on-demand professional development resource, and The Video Journal of Education will be added to PBS TeacherLine Peer Connection in early 2009. Topics covered in the materials include coaching, classroom management, instructional strategies, and assessment. All of the content is research-based and classroom-proven. The School Improvement Network has worked with top instructional experts such as Rick Stiggins, David Sousa, Doug Reeves, Rick DuFour, and Michael Fullan, and identified the very best teachers, no matter where they are located, to develop videos of best practices. There are real classroom examples from elementary and secondary schools located in urban, suburban and rural areas.
"The strong brand and quality of PBS TeacherLine, combined with The School Improvement Network's award-winning PD 360 content, will enable more teachers to learn and implement best practices in the classroom and increase student achievement, which is ultimately what we all are working toward," said Chet Linton, CEO of The School Improvement Network.
PBS TeacherLine combines the power of online communication and collaboration with trusted, valuable content. Featuring thousands of research-based, standards-aligned content in K-12 math, reading and instructional technology, PBS TeacherLine Peer Connection enables instructional coaches, teacher leaders, and mentors to augment their current professional development programs and create a customized, practical learning experience for teachers. PBS TeacherLine Peer Connection offers modules for school-based professional developers to learn about the interventions they are sharing, and how to employ the coaching and mentoring process productively to provide effective teacher professional development.
"PBS TeacherLine and The School Improvement Network are committed to helping improve teaching and learning to prepare our students for the 21st century," said Melinda George, senior director for PBS TeacherLine. "Providing educators with the resources and professional development support they need is a critical step toward reaching this goal."
"I am most impressed with the scope of Peer Connection...the wealth of resources allows the coach to make suggestions specific to the learner's needs and interests," said Lynn Heady, director of Teaching, Learning, and Assessment for Williamson County Public Schools in Franklin, Tenn.
For more information about PBS TeacherLine Peer Connection, visit http://www.pbs.org/peerconnection. To learn more about The School Improvement Network, go to http://www.schoolimprovement.com.
About PBS TeacherLine:
PBS TeacherLine is committed to helping teachers acquire the skills they need to prepare students for a successful future. PBS TeacherLine provides high-quality, affordable professional development through facilitated, online courses, collaborative learning communities, and exemplary Internet-based resources. Currently, more than 130 courses across multiple subject areas are offered. Teachers can earn continuing education units, professional development points, and graduate credits for course completion. The courses have been developed in conjunction with leading education organizations, including Mid-Continent Research for Education and Learning (McREL), Education Development Center (EDC), Concord Consortium, National Council of Teachers of Mathematics, and International Society for Technology Education. Created in 2000, PBS TeacherLine is funded by a grant from the U.S. Department of Education for $6,046,811. This represents approximately 85 percent of the total program funding. The remaining 15 percent is funded through in-kind support from PBS and program income.
About PBS:
PBS, with its 356 member stations, offers all Americans -- from every walk of life -- the opportunity to explore new ideas and new worlds through television and online content. Each month, PBS reaches more than 115 million people on-air and online, inviting them to experience the worlds of science, history, nature and public affairs; hear diverse viewpoints; and take front row seats to world-class drama and performances. PBS' broad array of programs has been consistently honored by the industry's most coveted award competitions. Teachers of children from pre-K through 12th grade turn to PBS for digital content and services that help bring classroom lessons to life. PBS' premier children's TV programming and Web site, pbskids.org, are parents' and teachers' most trusted partners in inspiring and nurturing curiosity and love of learning in children. More information about PBS is available at http://www.pbs.org, one of the leading dot-org Web sites on the Internet.
###