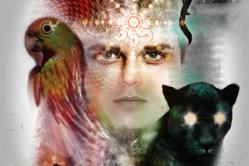 Sky Candy is visually spectacular and Matthew's story is gonna be an amazing journey for both the performers and the audience. Can't wait to see it."
- Mario Trancoso, PBS/KLRU
Austin, Texas (PRWEB) October 29, 2012
Sky Candy aerial arts collective announced its next theatrical production, "Land Without Evil", based on Matthew J. Pallamary's award-winning historical novel based on a true story, will run from December 8 - 16, 2012, at the historic Stateside at the Paramount. PBS will film the show's rehearsals and performances for their series, Arts in Context, premiering nationally in January 2013.
The novel, adapted for stage and sky by innovative directors Agent Red, from Los Angeles film/ video arts, and Sky Candy founder and artistic director Chelsea Laumen, is produced in collaboration with Executive Producer Jacki OH© of The Art Department school of fine art; "Land Without Evil" explores a boy's conflict between the spiritual beliefs of life in the Mission and the visions of his father, the shaman of a threatened tribe, forced into a perilous journey through the rainforest in a quest for the mythical Land Without Evil. Richly told through aerials and acrobatics, dance, capoeira, flow arts, spoken word, ASL, and singing, this visually dynamic show will feature stirring, new music by local artists and ground-breaking video-mapping by internationally renowned projection artist João Beira.
Said directors Agent Red and Chelsea Laumen, "Land Without Evil is a cutting-edge collaboration of creative multimedia and multidimensional artists. We are thrilled to be working with some of the brightest talents in Austin to craft this unforgettable journey to a dream within a dream."
Mario Troncoso, from PBS/KLRU says "Sky Candy's one of the best acts in town. As soon as I was hired to curate an entire Arts In Context season, they were on the top of my list. Sky Candy is visually spectacular and Matthew's story is gonna be an amazing journey for both the performers and the audience. Can't wait to see it."
"Land Without Evil" will be held at the Stateside at the Paramount, located in downtown Austin on Congress Avenue. General admission tickets are $20 each and available through austintheatre.org or 512-474-1221 starting on October 30th.
The show will run on two consecutive weekends:

Saturday 12/8/12, 8 p.m.
Sunday, 12/9/12, 2 p.m. and 8 p.m.
Friday, 12/14/12, 8 p.m.
Saturday, 12/15/12, 2 p.m. and 8 p.m.
Sunday, 12/16/12, 2 p.m. and 8 p.m.
VIP tickets, which guarantee a reserved seat in the first two rows, center, will only be available through http://indiegogo.com/land-without-evil in pairs for $60 starting on October 26th. To help raise funds for Sky Candy's non-profit, community arts production of "Land Without Evil," please visit this site as well.
Sky Candy debuted its first theatrical production, "The Red Shoes", to Austin audiences in 2011, receiving rave reviews. Their follow-up "The Time Machine" in April 2012 was similarly well-received, as was their summer 2012 student show "The Flame."
"It's a rare blessing for a novelist to have their work adapted to a stage show," says "Land Without Evil" author, Matt Pallamary, "and an even rarer blessing to be the son of an acrobat collaborating with an aerial troupe. Shamanism and magic indeed!"
About Sky Candy
Sky Candy, awarded a "2011 Best of Austin" award as the city's Best Circus Art Revivalists, is an aerial arts collective whose mission is to develop and foster interest for the aerial arts in Austin, Texas. Founded in 2010, it offers aerial classes in multiple apparatuses such as silks, lyra, static trapeze, corde lisse for all skill levels as well as open studio and rehearsal space for local artists. Visit http://www.skycandyaustin.com.
About Matthew J. Pallamary
Matthew J. Pallamary's historical novel "Land Without Evil," inspired by a true story, received rave reviews, a "Bravo! More!" from Ray Bradbury, along with a San Diego Book Award. Matt's newest book, "The Infinity Zone: A Transcendent Approach to Peak Performance" (Mystic Ink Publishing, Fall 2012), explores a phenomenon of perfect form and motion. Matt is originally from Dorcester, MA and currently a long-time resident of San Diego, CA. For more about Matt, visit http://www.mattpallamary.com