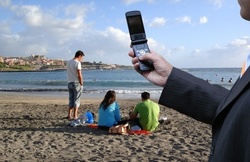 We at PBXCompare.com feel that providing more detailed information about each provider will help consumers better evaluate the providers and compare service plans
Austin, Texas (PRWEB) August 6, 2008
Over the few short weeks after Zilker Ventures launched PBXCompare.com, a comparison and review website for hosted PBX services, the company has experienced tremendous success. In order to keep up with the needs of their increasing number of users, Zilker Ventures has expanded the features grid on PBXCompare.com with the addition of three different tabs, which now categorize service plans in terms of "Affordability," "Popularity" and "Corporate Systems."
In tandem with the expanded grid, the PBXCompare.com reviews page now displays reviews of each vendor's most affordable, most popular and best corporate plans. The reviews page previously displayed only reviews of the most affordable service plans.
"We at PBXCompare.com feel that providing more detailed information about each provider will help consumers better evaluate the providers and compare service plans," says PBXCompare.com site creator Leo Welder.
PBXCompare.com has reviewed dozens of providers, including market leaders such as Virtual PBX, RingCentral and Phone.com. Zilker Ventures hopes that the changes will have a positive effect on website traffic and plans to implement more changes in the future to improve PBXCompare.com.
"The new website features should also help foster speedier and more effective website navigation. It ought to help consumers who know what they want to purchase find the information they need right away," says Welder.
Zilker Ventures has published comparison and review websites relating to hosted PBX services, Internet fax services, tax software, email marketing and web hosting. The company anticipates the expansion of each of its websites as needed to meet customer demand.
For additional information regarding PBX services, visit PBXCompare.com.
Zilker Ventures, LLC is a web publisher that consolidates information and reviews various business and financial products.
Contact:
Jennifer Silva
Zilker Ventures, LLC
(512) 448-9031
###