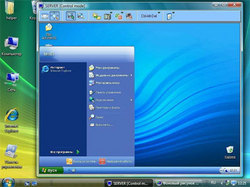 New York, NY (PRWEB) December 22, 2010
The new update of Anyplace Control offers all corporate and private users the best Windows 7 compatible PC remote control software. The price for the product remains the same that makes this remote desktop control software affordable for all users.
The newest release of Anyplace Control software has a chat feature that facilitates a communication between administrator and remote users. Furthermore - new version allows administrator to create an MSI file with customized settings for silent installation or to create a web-based Host module that doesn't require any installation on a remote PC. New version minimizes the role of remote desktop user in remote support process. From this point network administrators and Help Desk supporters may perform their work faster as they do not depend on remote user's computer literacy any more.
Private users will definitely like a new modern design of this remote control PC software. Windows 7 style interface looks more pleasant than the one which was before. All those who work with two or more monitors will also like the new multi-monitors support feature, which means that users may perform all necessary work on a remote desktop without any discomfort.
A new version of Anyplace Control can connect through the HTTP/HTTPS Proxy servers - thus, corporate users may use this remote access software for remote computer access without being concerned about security. Furthermore, with an ability to allow/deny certain Host module's features (like File Transfer, Clipboard Transfer, etc.) this PC remote control software becomes extremely secure; the latest version of Anyplace Control guarantees a powerful protection from unauthorized access to remote PC and data stored there.
"It's amazing, I definitely adore this new release. With Anyplace Control 5.0 I can work with my remote PC dual monitors and see semi-transparent windows opened there. It looks very modern and they won the game with an ability to connect via Proxy. Thanks God it's not a problem anymore. I'll spend the life with this remote control computer software " - says Alex Seldovski, a long-term user of Anyplace Control program.
Remote support process becomes easier and more secure with every new update of Anyplace Control.
Pricing and availability:
The price of the software depends of the amount of PCs and the tariff plan. The minimum price for purchasing comprises 39.99 USD. For unlimited remote support the product is available at 399 USD. The software runs fine with all versions of Microsoft Windows.
Download page: http://www.anyplace-control.com/download.shtml
About Company:
Softlantida Inc. was established in October 2002 on the basis of a European research team. This team had been previously engaged in IT researching and consulting in the field of PC remote control PC maintenance, remote PC troubleshooting, etc. Current mainstream project is Anyplace Control - the software that allows user to access and control remote PC anywhere over the Internet.
###