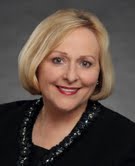 To be recognized by an organization that has roots within my childhood and one that is led by outstanding leaders such as Girl Scouts USA CEO Anna Maria Chavez is especially meaningful to me. --Dr. Anna Solley, Phoenix College President
Phoenix, AZ (PRWEB) December 10, 2012
Phoenix College president Dr. Anna Solley has been honored by the Girl Scouts Arizona Cactus-Pine Council with the 2012 Visionary Award. The award, presented as part of the organization's 2012 Women & Young Women of Distinction Awards, recognizes Solley for her ability to be innovative and make her vision a positive reality in the community.
The Girl Scouts Arizona Cactus-Pine Council honored three Women of Distinction and three Young Women of Distinction at an awards luncheon on Dec. 1, 2012, at the Arizona Biltmore Resort. The ceremony marked the 100th anniversary of the Girl Scouts and recognized Girl Scouts alumni and current Girl Scouts who are making notable contributions to the community.
"To be recognized by an organization that has roots within my childhood and one that is led by outstanding leaders such as Girl Scouts USA CEO Anna Maria Chavez is especially meaningful to me," said Solley.
A leader in higher education for more than 36 years, Solley has served as president of Phoenix College, the flagship of the Maricopa Community Colleges, since 2005. During her tenure, she has led the college to create a "one-stop" enrollment center to serve students in a single location built to optimize a collaborative approach, and undertook an initiative to increase the number of minority students pursuing math and science degrees.
She also has been instrumental in the creation of the Raul H. Castro Institute at Phoenix College, a "do tank" that focuses on issues impacting Arizona's Latino community. In addition, she has provided executive leadership for fundraising that has resulted in the awarding of many scholarships to students at PC and has also provided executive leadership for successful accreditation efforts, capital campaigns and construction/remodeling projects.
Solley has a passion for education and willingly serves as a mentor to employees and students.
"Championing student success, empowering others, enabling change, and promoting diversity are my passions," said Solley. "These values constitute my destiny and my legacy—to pave the way for others to assure their success in school, at work, and in life."
Solley is a contributor to both the Maricopa District and to many local and national organizations. She currently serves on the American Association of Community Colleges 21st Century Initiative Implementation Team for Community College/K-12 Collaboration for College Readiness, Arizona Commission for Postsecondary Education, Arizona Women's Employment and Education (AWEE) Board as secretary, Arizona State University Downtown Business Advisory Council, International Consortium for Educational and Economic Development Board, National Community College Hispanic Council (NCCHC) as Past-President, Raul H. Castro Institute Advisory Committee, and St. Joseph's Hospital and Medical Center Community Advisory Board.
In addition, she serves as a consultant-evaluator for the Higher Learning Commission of the North Central Association and is a member of the Institutional Actions Council. Solley is the Founding Board President of the National Association of Community College Teacher Education Programs, an affiliate council of the American Association of Community Colleges.
Solley says that being a Girl Scout has served her well later in life.
"As a Girl Scout, I learned to be very community-minded and had a sense of being a better leader," she said. "I remain inspired by the Girl Scout values of courage, confidence and character which are critical to our future."
Along with Solley, other 2012 Women of Distinction honorees are Darlene Newsom, chief executive officer of UMOM New Day Centers, who received the Courage award, and Jackie Norton, president and CEO of the Rodel Foundation, who received the Leadership award.
The three 2012 Young Women of Distinction are Mariah Neal, Paradise Valley High School, Visionary Award; Catherine Ayotte, Basis High School, Courage Award; and Emily Nugent, Highland High School, Leadership Award.
Girl Scouts also awarded three Promise Awards to Retired Maricopa Superior Court Judge Barbara Mundell; Eddie Basha, founder of Bashas' family of stores; and PANDA – People Acting Now Discovering Answers.
Phoenix College is one of the 10 regionally accredited Maricopa Community Colleges.