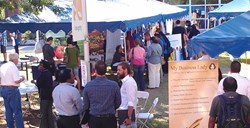 (PRWEB) September 11, 2013
Phoenix College and MCCCD, in partnership with the Arizona SciTech Festival, TGen, and the Arizona Technology Council, is hosting a STEM Internship Expo at Phoenix College on Saturday, September 21, 2013.
Students pursuing studies in science, technology, engineering and mathematics or pursuing STEM academic and career pathways will benefit from participating in this free, half-day event.
College students and high school upperclassmen will learn about organizations in the Phoenix metropolitan area that host STEM internship programs and how such internships bridge the gap between academic studies and professional employment.
Additionally, students will meet representatives from these organizations and learn what it takes to submit a competitive application for summer and year-round internship opportunities.
Organizations participating in the 2013 AZ STEM Internship Expo:
Translational Genomics Research Institute (TGen)
The City of Phoenix
Agricultural Research Service (ARS)
Animal and Plant Health Inspection Service (APHIS)
Farm Service Agency (FSA)
Food Safety and Inspection Service (FSIS)
Forest Service (FS)
Natural Resources Conservation Service (NRCS)
Rural Development (RD)
What:
AZ STEM Internship Expo
When:
Saturday, September 21, 2013
8:30 a.m. to 12:00 p.m.
Where:
Phoenix College Student Union
1202 W. Thomas Rd.
Phoenix, AZ 85013
Phoenix College is one of the 10 regionally accredited Maricopa Community Colleges.