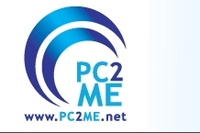 Boston, MA (PRWEB) August 12, 2009
1stWorks, a real-time communications software company with solutions for secure multimedia conferencing, collaboration and content delivery, today announced the immediate release of additional options for its PC2Me remote access software.
Joining the original PC2Me for the iPhone and iPod touch with Safari browser access to remote desktops and PC2Me Plus, the Native Application for remote control iPhone application, 1stWorks now offers support for remote Windows desktop access from any Safari browser enabled device, phone, laptop or desktop, plus all these new options - same great software, same great performance.
New options include:

support for Multiple Monitors at any resolution,
support for Multiple Web Cams,
support for Audio delivered to the remote iPhone or Desktop
support remote access to Multiple Servers
support for FileView mode, where desktop drives can be viewed remotely
support for Content Safety, where an image capture and remote delivery feature enables a Supervisor, even a parent, to inspect desktop screen content from an iPhone, or from a remote Safari, desktop to assure safety and security.
Options coming soon include HIPAA compliant security for medical and legal applications where conventional security is inadequate for compliance requirements and DeLuxe FileView, created specifically for the Native App version of PC2Me, which will copy and automatically update selected desktop files to the iPhone over WiFi or 3G for immediate local access on the device.
PC2Me delivers secure real time multimedia remote control for your computer - stay connected to live WebEx, Go To Meeting or hotComm webinars, with charts, slides, web cams and high quality audio, even when traveling.
1stWorks innovative data compression technology delivers better performance while, for international users, there is support for International Keyboard Character Sets for compatibility, convenience and efficiency.
Check out all the options at http://www.pc2me.net, prices start at only $9.95.
About 1stWorks Corp
1stWorks Corporation is a real-time software communications company with solutions for secure collaboration, conferencing, compression and multimedia content delivery Ten thousand customers worldwide in more than 70 countries already use 1stWorks software, the company was founded in 2000 by executives from several earlier successful companies, and is located near Boston, on the web at http://www.1stworks.com.
Contact:
Nigel R. Spicer
1stWorks Corp.
Voice: (508) 541-6781
###