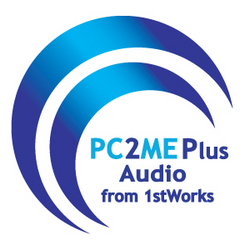 Boston MA (PRWEB) March 19, 2009
1stWorks, a real-time communications software company with solutions for secure multimedia conferencing, collaboration and content delivery, today announced the immediate availability of PC2Me Plus 3.22 in the App Store. Combining a powerful desktop application with a native application on the iPhone enables the iPhone to function as a real time multimedia remote control plus a mobile display and sound system for the desktop - securely and efficiently with password protection. Stay connected to WebEx, Go To Meeting or hotComm webinars, live with charts or slides, and hear high quality audio right from the iPhone, even when traveling.
If you prefer music, access your entire playlist, terabytes and more, as it is being played on your desktop computer, control it remotely and listen online on your iPhone, even access your favorite Internet Radio stations.
Users can download, install and connect in just minutes, then view and control desktop applications and files on the primary monitor, at any screen resolution, right the iPhone.
Multitouch mouse emulation uses our patent pending technology, while keystrokes are entered directly into applications without any intermediate edit fields.
1stWorks' innovative data compression refreshes the iPhone display 5 to 7 times a second from the desktop, even over Edge, resulting in faster connections and better performance. For the many international users, 1stWorks has added support for International Keyboard Character Sets for compatibility, convenience and efficiency. PC2Me Plus Audio is the fastest, most efficient remote control option for the iPhone - Buy your copy today from the App Store for only $9.95 http://itunes.apple.com/WebObjects/MZStore.woa/wa/viewSoftware?id=305211697&mt=8
Then visit http://www.pc2meplus.com/downloads.asp and install the free desktop software. Register your user name, then click, connect and control from your iPhone
Contact:
Nigel R. Spicer
1stWorks Corp.
Voice: (508) 541-6781
# # #