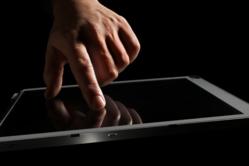 Camas, WA (PRWEB) May 14, 2013
Today, Sharp Microelectronics of the Americas (SMA) announced the addition of multi-touch PCAP (Projective Capacitive Touch) displays to its all-LED backlit TFT LCD line up. The two new panels are 7.0-inch and 10.4-inch diagonal, with additional sizes expected in the future, including a 4.3-inch (diagonal). The new LCDs will be on show at Display Week 2013 (May 21 - 23 in Vancouver, B.C.), along with other products including new OLED displays built with Sharp's proprietary IGZO technology. Find details on these and other Sharp LCDs at http://www.SharpSMA.com.
Sharp Listens…and Expands LCD Product Lines
The new products offer a first chance to integrate Sharp Industrial Application (IA) LCDs with PCAP touch-panels into designs without the need for third-party add-on solutions. Both Multi-Touch displays include an associated drive module. A built-in PWM backlight driver and standard 18-bit interface also ease product integration. Input methods for the glass PCAP overlay include Bare Finger, Gloved Finger, or Conductive Stylus.
Based upon discussions with customers about evolving market opportunities and requirements, Sharp has added other new product categories to its IA LCD line. These include Automotive-Grade displays for Industrial Applications (IA); additional Wide Aspect Ratio and high-brightness LCDs; "Performance Consumer" LCDs for select applications; and a competitively-priced "Value IA" line.
Product Details
The 7.0-inch (diagonal) LQ070Y3DG05TPxx is one of several products in Sharp's new Value IA line. These new displays allow customers to integrate many of the features of Sharp's Industrial Strength LCDs into budget-sensitive programs – along with the added value of support from Sharp's U.S.-based field application engineering and sales teams.
The 10.4-inch (diagonal) LQ104V1DG81TP01 is ideal for the most rugged Industrial Strength applications, with high specification ratings for shock, vibration, operating temperature, brightness, and contrast. The module features wide viewing angles (horizontal: 160° | vertical: 145°), 400 nits of brightness, 800:1 contrast, and a 50,000-hour-rated LED backlight.
Backed by Sharp
Its global infrastructure enables Sharp to source display glass from its own Fabs, thus giving it the ability to provide long product lifecycles. Sharp IA panels are supported with extensive documentation, including Specifications, Incoming Inspection Reports, Reliability Data, and a UL Parts List. Our Resources page at http://www.SharpLEDLCD.com also features instructional videos, "The Switch" podcast, technical papers, and other assets to simplify the design process.
Availability and Pricing
One-piece sample pricing is as follows:
7.0-inch: (LQ070Y3DG05TPxx) – $215
10.4-inch: (LQ104V1DG81TP01) – $377
Product samples and pricing may be obtained through any Sharp Representative or Distributor. Sharp displays are RoHS* compliant, upholding the company's commitment to reducing the environmental impact of manufacturing.
About Sharp Microelectronics of the Americas
Sharp Microelectronics of the Americas (SMA) drives innovative LCD, optoelectronics, imager, and RF components to market. The world's leading manufacturers of consumer and business technologies look to SMA for the products, expertise, and worldwide support they need to make their visions a reality. SMA, in Camas, Washington, is the microelectronics sales and marketing division of Sharp Electronics Corporation, a wholly owned subsidiary of Sharp Corporation. For more information, visit us at http://www.SHARPsma.com.
∗ The Restriction of Hazardous Substances in Electrical and Electronic Equipment (RoHS) Directive (2002/95/EC). This directive took effect July 1, 2006. All measurements are diagonal. All Specification values quoted are Typical values. IGZO: (InGaZnO), an oxide comprising indium (In), gallium (Ga), and zinc (Zn). LED: Light Emitting Diode. OLED: Organic Light-Emitting Diode. CCFL: Cold Cathode Fluorescent Lamp. LCD: Liquid Crystal Display. Sharp is a registered trademark of Sharp Corporation.