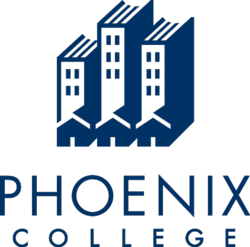 This prestigious innovation award validates the partnership with Arizona State University and use of innovative learning technologies in a hybrid delivery model. --Julie Stiak, Phoenix College Program Co-director
Phoenix, AZ (PRWEB) May 10, 2012
A unique partnership program between Phoenix College and Arizona State University to create more bachelor's degree level medical laboratory scientists has earned PC the 2012 Innovation of the Year Award from Maricopa Community Colleges and League for Innovation in the Community College.
The ASU/PC Medical Laboratory Science Partnership Program received the Dr. Paul M. Pair Innovation of the Year Award May 1 at the Rio Salado Conference Center. The recognition comes with $2,000 to further PC's winning innovation. The Innovation Award is named in memory and in honor of Dr. Paul M. Pair, long-time member and former president of the Maricopa Colleges Foundation Board and a pioneer in in the field of data processing education.
The Pair Award winner is chosen from innovation projects submitted by each of the Maricopa Community Colleges and the District Office. Each year, the Maricopa Community Colleges and the League for Innovation in the Community College co-sponsor the awards to recognize an employee or team of employees who have designed and implemented a significant innovation that has had a positive impact on the education of students.
The PC program provides opportunities for students to earn a Bachelor's of Applied Science by taking the majority, if not all, of their courses at Phoenix College. Students earn 90 credits from Phoenix College and 30 credits from Arizona State University and can essentially earn a bachelor's degree on the Phoenix College campus through hybrid delivery and videoconferencing technology.
The PC/ASU team consisting of Julie Stiak, Jeff Wolz, Dr. Sharon Halford, Dr. Maria Hesse, Dr. Casandra Kakar, Liz Parmelee, and Dr. David Young was recognized by the League for Innovation in the Community College for their roles in implementing the program.
"This prestigious innovation award validates the partnership with Arizona State University and use of innovative learning technologies in a hybrid delivery model," said Julie Stiak, who co-directs the program for Phoenix College. "Clinical affiliates throughout the state are excited about this program and its potential as a staff professional development resource."
The program saves students money by allowing them to pay PC's lower tuition for 90 credits and they can take university-level courses on the PC campus because ASU provides associate professors to teach those courses at PC. Hybrid delivery and videoconferencing technology expand the program statewide and optimize student retention and success.
This is the second time in three years that Phoenix College has won the Pair Award. In 2009-2010, PC's Schedule eZine, the digital flip magazine edition of the class schedule, took the top prize in 2009-2010.
Phoenix College is one of the 10 regionally accredited Maricopa Community Colleges.