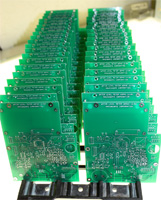 Avanti Circuits is a cut above any other PCB manufacturer. We offer our customers simply the best value. We believe that no one can compete with our winning combination.
Phoenix, AZ (PRWEB) September 22, 2011
In a market that is jammed packed with PCB manufacturers it can be hard to differentiate one company from the other these days and this is something that USA based PCB manufacturer, Avanti Circuits have been aware of for some time. An announcement therefore on what makes Avanti Circuits stand out in the market place as one of the best printed circuit board production companies around was on the cards for some time then.
The company has recently announced what they refer to as the "Avanti advantage" in the PCB manufacturer market place, that spells out why this company has to be among the top choices for anyone looking for PCB products at the moment.
One of the key things that the "Avanti advantage" announcement is keen to point out is that this company has been creating lasting partnerships with their customers for the past 29 years which is no mean feat in the world of printed circuit board production.
Over the course of this time Avanti has provided their customers with a unique pricing advantage that comes from dealing with a US based manufacturer with full in house capabilities, and a customer service team that are second to none, having 200 years of combined experience in the world of printed circuit board production between them.
A company spokesman also pointed out when talking about the "Avanti advantage" that the company has carved out a name for itself as a high quality PCB manufacturer by excelling in the areas of low minimums, fast turnarounds, diverse capabilities and a solid guarantee that goes hand in hand with all their products.
Although existing customers of Avanti circuits will be very familiar with the unique quality that has made this company their number one choice for a quick turn pcb manufacturer, there is no doubt that the spelling out of the "Avanti advantage" will win over even more customers for the company.
###