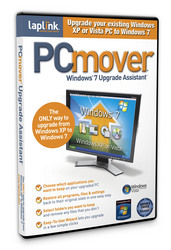 The dilemma Windows XP users are facing is becoming widely known; Microsoft does not support a so-called 'in-place upgrade' from XP to Windows 7. Even for Windows Vista users, Microsoft will only allow in-place upgrades between certain versions of Vista and Windows 7
Bellevue, WA (PRWEB) October 15, 2009 -
Laplink® Software announced shipment of its newest versions of PCmover® which will be available in retail stores everywhere to coincide with the launch of Windows® 7. PCmover has long been the category leader and number-one selling application in PC-to-PC migration with over 95% market share in U.S. retail. It is the only software that can successfully move files, settings and programs from computer to computer.
These new "editions" of PCmover include Professional, Home, Netbook, and Upgrade Assistant. Reviews by industry press, like The Wall Street Journal, have been extremely favorable with, PC Magazine giving this latest version of PCmover its Editor's Choice award.
"PCmover® has always been a very useful product, saving end-users time and money," said Mark Chestnut, Laplink's Senior Vice President of Sales. "But our new Upgrade Assistant functionality truly sets a new standard. We've made it simple to upgrade your existing PC's operating system. And now, not only is PCmover the only solution that moves applications automatically to your new PC, it is now the only way to upgrade your PC from XP to Windows 7."
Reviewers have repeatedly praised the innovative Upgrade Assistant feature present in every new version of PCmover. This new feature allows for a full in-place upgrade of a personal computer from the Windows XP operating system to Windows 7. This feature is especially important because Microsoft® itself does not support the upgrade from Windows XP to Windows 7. Since most PC's in use today are still running Windows XP, many users will need this upgrade solution."
"The dilemma Windows XP users are facing is becoming widely known; Microsoft does not support a so-called 'in-place upgrade' from XP to Windows 7. Even for Windows Vista users, Microsoft will only allow in-place upgrades between certain versions of Vista and Windows 7," said Thomas Koll, Laplink's CEO.
"The various upgrade scenarios will be very confusing and frustrating for consumers," continued Koll. "And businesses, especially smaller businesses, will view this negatively. Our objective is to make upgrading to Windows 7 as easy and simple as possible, so users can get all the benefits of this new operating system - which is quite good - without all the hassle."
All new versions of PCmover include the Upgrade Assistant feature. The new versions of PCmover include:

PCmover Windows 7 Upgrade Assistant™: A low-cost special edition of PCmover that is restricted to performing in-place upgrades.
PCmover Professional: The best-selling version of PCmover among consumers and businesses. Which allows end-users to upgrade an existing PC or migrate to a new PC with full selectivity of programs, files and settings. Fully compatible with multiple profiles and domain users.
PCmover Home: A full version of PCmover at a lower price than Professional which moves files, settings and programs to a new PC or assists with upgrading an existing PC.
PCmover Netbook: Just like Professional, except at a lower price - and the destination computer must be a Netbook.
Laplink also offers volume licenses of its Business and Enterprise versions of PCmover. These versions are enhanced to meet the needs of IT personnel performing migrations at any size organization with simple customization options.
Prices & Availability
PCmover Windows 7 Upgrade Assistant is available now and priced for a limited-time at $14.95 (until October 22). The price is normally $29.95.
PCmover Professional's SRP is $69.95 for packaged product; $59.95 for download at http://www.laplink.com. Multiple license discounts are available. Both PCmover Home and Netbook Edition are priced at $39.95.
Customers can purchase any version of Laplink PCmover at http://www.laplink.com and very soon through most software retail stores and online retailers worldwide.
About Laplink Software, Inc.
For more than 25 years, Laplink has been the leader in providing software used for PC migration, remote access, file transfer, and synchronization. The privately-held company was founded in 1983 and is headquartered in Bellevue, Washington.
Laplink Software Press Contact
Daniel Donohoe, Public Relations
+1-425-952-6023
Additional information and images can be found online at Laplink's Media Center.
###