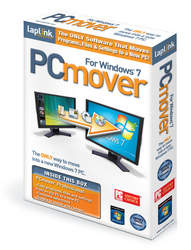 These awards are recognition that when someone understands what PCmover can do for them - and that it is a unique product – they view it as a 'must-have' application.
Bellevue, WA (PRWEB) March 18, 2010
Laplink Software announced today that PCmover was named the top selling utility software in Japanese retail stores by BCN, the authoritative sales-ranking company in Japan (similar to NPD in the United States). The Japanese version of PCmover also received the NEC Biglobe Softplaza Award for a new revolutionary product.
"Together with AOS Technologies, our partner in Japan, we have worked very hard to communicate the value of PCmover to Japanese consumers and businesses alike," explained Thomas Koll, CEO of Laplink. "These awards are recognition that when someone understands what PCmover can do for them - and that it is a unique product – they view it as a 'must-have' application."
PCmover is the number one selling migration software in the world and is the only product capable of automatically moving programs in addition to files and settings from an old PC to a new one.
"We are honored that PCmover has been recognized as a revolutionary product by NEC BigGlobe and by Japanese software buyers who have voted by purchasing PCmover," continued Koll. "Our team has worked very hard to make PCmover the leading utility software. And continue to improve it, as we will do by soon releasing PCmover Image Assistant, the only software utility capable of restoring a disk image (or the actual hard drive itself) to a different operating system."
These awards come soon after Laplink announced that NEC had selected PCmover to preinstall and ship with its consumer PCs sold in Japan.
"Together with Laplink, we are providing very unique and useful software to Japanese PC users," said Takamasa Sasaki, CEO of AOS Technologies. "We are proud to receive these awards, and we are proud of our strong relationship with Laplink. AOS will continue its tradition of bringing high quality software to the Japanese market."
PCmover is the only product to automatically move from an old PC to a new one, the only way to upgrade a PC to Windows 7 from XP, and will soon be the only software capable of restoring an image to a PC with a different operating system than the source.
Laplink offers PCmover in different versions tailored to meet the needs of different users – such as Home, Professional, and Enterprise. Special low-priced versions are also offered for setting up Netbooks or performing in-place upgrades,
PCmover is available in retail stores through North America, Europe, and Japan as well as from http://www.laplink.com. Prices begin at under $20 for a single license with discounts available for volume purchases.
Read more at the Laplink blog
Find out more about PCmover and other Laplink products at http://blog.laplink.com.
About Laplink Software, Inc.
For nearly 30 years, Laplink has been the leader in providing software used for PC migration, remote access, file transfer, and synchronization. The privately-held company was founded in 1983 and is headquartered in Bellevue, Washington.
For more information about this release, please contact:
Laplink Software Press Contact
Andy Tolton
andy.tolton (at) laplink (dot) com
+1-425-952-6000
Additional information and images can be found online at Laplink's Media Center: http://www.laplink.com/media.
About AOS Technologies:
Founded in 1995 to improve business and lifestyle with emerging technologies, AOS Technologies is a pioneer in developing products and services for data storage, IP voice and video, and ubiquitous networking applications. AOS Laboratories supports this mission by focusing on the Internet standard protocol for current and next-generation architectures. With the help of AOS Technologies, users are empowered to take maximum advantage of the global network of today, while seamlessly transitioning to a tomorrow that instantaneously connects people with their information.
About NEC Biglobe:
NEC Biglobe is one of the leading internet service providers in Japan. It carries more than 1,000 software products on its site for download sales of leading and revolutionary software at reasonable prices.
About BCN, Inc.:
Most of the leading software stores in Japan report their sales numbers directly to servers at BCN. Those numbers are then categorized and totaled in unit sales and revenue to determine which products are the most successful. This data reflects the majority of actual sales in Japan.
###