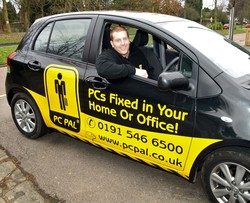 PC PAL's strong branding and professional service made them the obvious choice.
(PRWeb UK) March 17, 2010
South Shields man and ex-paratrooper Phil Bowman, is set to be your computer's new best friend as he launches PC PAL, which provides computer repairs on the spot to homes and small businesses. Phil recently left The Army to provide this essential 'emergency service' to frustrated PC users in the Sunderland and South Tyneside Area.
Prior to setting up the new business, Phil was a member of The Armed Forces. He joined The Parachute Regiment aged 18 as he wanted to gain some life experience and see the world. He not only went on active service in Northern Ireland but also served in The Iraq War in the run up to and after the liberation. After 5 years in the Army Phil joined a defence services company, providing security for reconstruction work in Iraq.
Another 4 years on, Phil wanted a fresh challenge away from the obvious dangers of being in Iraq, and started thinking about starting his own business.
'I wanted a new career with the freedom offered by having my own business, as well as the big personal challenge which inevitably comes from being your own boss!' Phil explained. He also decided to look at franchises as it reduces risk with a proven business model. He finally chose PC PAL's computer repair and support franchise as he liked the strong brand image and the professional support package on-offer.
'PC PAL's strong branding and professional service made them the obvious choice,' explained Phil.
Phil went through rigorous training before launching the business - something he was obviously quite used to with his Army background!. 'I really enjoyed going out with the PC PAL Engineers on real jobs, learning vital tips and tricks and really putting my qualifications to work in the real world,' Phil commented. 'PC PAL also arranged everything for my launch - the support has been excellent.'
'I am now a fully qualified Microsoft Certified Professional and also have the CompTIA A+ Certification for hardware,' Phil commented. 'As I also carry a comprehensive range of spare parts and diagnostic tools it means I can fix 99% of problems on the spot in people's homes or offices which reduces the inconvenience to the customer of having to take the PC out to another location.'
The initial response to the service has been excellent and Phil is now looking forward to the challenge of building a successful business and being recognised as providing an excellent service in the local community.
For PC help, local people can call Phil Bowman of PC PAL on the 7-Day Helpline 0191 546 6500 to arrange a suitable time slot or visit PC PAL Sunderland
For media enquiries and more information about PC PAL in the Sunderland and South Tyneside Area, or a photo opportunity, please contact Phil Bowman on Tel: 0191 546 6500 or email sunderland(at)pcpal(dot)co(dot)uk
For more information about the Franchise Opportunity please call 0121 369 5000, email: JoinUs@pcpal.co.uk, or visit the PC PAL Newsroom
###