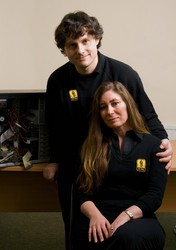 We're already in high demand and my initial customers have been really pleased with the service
(PRWeb UK) March 18, 2010
Steve Lane from Market Harborough has recently launched his PC PAL Franchise to provide on-the-spot computer repairs to homes and small businesses, along with his wife Louise who joins him in supporting the business. Steve and Louise have both ditched high flying careers to provide this essential 'emergency service' to frustrated PC users in the Market Harborough and South Leicester areas.
"Computers have always been a passion," Steve commented. "I started supporting computers professionally in September 1994 but I had been tinkering with them since the age of 10."
Since then Steve worked for a number of small and large companies such as Thames Water and eventually became a consultant with companies like Nokia Mobile Phones, Microsoft, IBM, Argos, Barclays Bank and Vodafone being among his clients. He also worked in the City of London as a computer security consultant working on engagements for companies such as Morley Fund Management.
"We wanted to start a new business and I particularly wanted a change from life as a consultant - there's more to life than living out of hotel rooms! I also wanted to work in the community using my skills, helping local people solve their PC problems. We were attracted to PC PAL as it is a well run and growing franchise with streamlined processes and procedures in place and has an extremely strong and striking brand image," explained Steve. "We intend to grow the business into a larger territory as our customer base expands."
Louise left school at 16 and joined the NHS, quickly moving into finance and accounts. Apart from some short breaks, the NHS has largely been her employer for most of her working life.
"Having now amassed about 22 years of aggregated service I felt like I needed a change before I really became institutionalised!" she commented. "My Husband and I thought long and hard and decided that I should join him in driving PC PAL forward and helping out with the day to day running of the business. I am really excited about our business venture and working together."
Steve underwent rigorous training with PC PAL before launching the business and, amongst his many other IT-related qualifications, is now a fully qualified Microsoft Certified Professional and also has the CompTIA A+ Certification for hardware - which all PC PAL Engineers are required to have. All engineers also carry a comprehensive range of spare parts and diagnostic tools meaning 99% of problems can be fixed on the spot in people's homes or offices, reducing the inconvenience to the customer of having to take the PC out to another location.
"We're already in high demand and my initial customers have been really pleased with the service," said Steve. "Louise and I are looking forward to the challenge of building a business together and being recognised as providing an excellent service in the local community. It's also great to be in control of my own future but have the support of a much larger organisation."
For PC help, local people can call Steve & Louise of PC PAL on the 7-Day Helpline 01858 22 22 02 or 0116 340 40 50 to arrange a suitable time slot. They can also visit their local website:PC PAL Market Harborough or PC PAL Leicester South.
For media enquiries and more information about PC PAL in the Market Harborough Area, or a photo opportunity, please contact Steve or Louise Lane on Tel: 01858 22 22 02 or 0116 340 40 50 or email: leicestersouth(at)pcpal(dot)co(dot)uk
For more information about the Franchise Opportunity please call 0121 369 5000, email: JoinUs(at)pcpal(dot)co(dot)uk, or visit The PC PAL News Room
###