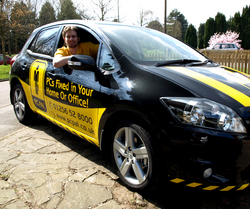 When we went to visit PC PAL it was obvious they have the people, systems and support structures in place and I was confident they were the right choice for me.'
(PRWeb UK) May 12, 2010
Prior to setting up his new business, Richard worked setting up home theatre sound and vision systems. This was badly affected by the credit crunch and so he wanted to get into repairing PCs which was a service still highly in-demand, despite the recession! After initially looking for a job in a large company, a friend suggested he look at franchised businesses which led him to PC PAL.
'I was attracted to PC PAL as the package provided me with a professional Microsoft qualification for software and a CompTIA A+ one for hardware, which was something I was intending to study for anyway' Richard explained. 'However, with PC PAL you have the support and backing of a national company and brand. When we went to visit PC PAL it was obvious they have the people, systems and support structures in place and I was confident they were the right choice for me.'
Richard went through rigorous training before launching the business. 'It was great to go out on real jobs with the PC Engineers at HQ before launching as it gave me the confidence I needed as well as showed me how the PC PAL system worked,' he commented.
Richard is now a fully qualified Microsoft Certified Professional and also has the CompTIA A+ Certification for hardware. He also carries a comprehensive range of spare parts and diagnostic tools meaning 99% of problems can be fixed on the spot in people's homes or offices which reduces the inconvenience to the customer of having to take the PC out to another location.
PC PAL are fighting back against rouge computer firms and shops who either are not qualified, insured or who offer a shoddy service. As our customers have previously testified, some unscrupulous firms are recommending work which does not need to be carried out, misdiagnosing altogether or even installing illegal software.
Richard is now looking forward to the challenge of building a successful business and being recognised as providing an excellent and much-in-demand service in the local community.
For PC help, local people can call Richard Hunt of PC PAL on the 7-Day Helpline 01256 52 8000 to arrange a suitable time slot or visit PC PAL Basingstoke.
For media enquiries and more information about PC PAL in the Basingstoke Area, or a photo opportunity, please contact Richard Hunt on Tel: 01256 52 8000 or email: basingstoke(at)pcpal.co(dot)uk
###