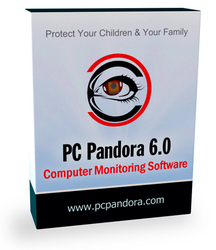 This is a clear signal that parents are getting the message
Las Vegas, NV (Vocus) October 21, 2010
In a press release last week, the UK-based online software retailer and comparison website, Shoutdown.net, reported an increase of 225% in year-to-year downloads of activity monitoring software.
"This is a clear signal that parents are getting the message," says Manuel Coats, co-founder of Pandora Corp. "It is vitally important to know what your kids are doing on the computer and to know what is happening on the machines you own. This is the awareness we've been pushing for years."
Pandora Corp's flagship title, PC Pandora, is one of the top rated and top selling monitoring software titles on Shoutdown.net, which draws most of its visitors from the US and the UK. According to the website, media attention to issues like cyberbullying and Internet predators have caused a 312% spike in downloads of monitoring software for families.
"We were thrilled when we saw their announcement," remarks Coats. "Every parent that takes the proactive step to monitor their child's Internet activity takes a big step towards keeping them safe. That is just plain good for everyone!"
PC Pandora is computer monitoring software that records all activity on a user's PC. Starting with sequential snapshots of all screen activity, it shows parents everything that happened on their machine. The program further breaks down all recorded activity into text-based logs and easy-to-read charts. PC Pandora records all emails sent and received, instant messenger chats, websites visited, peer-to-peer activity, programs used, Internet search queries, and much, much more.
PC Pandora is also equipped with the IRIS feature, which allows busy parents at work to receive updates on activity via email for free. An additional subscription service, PC Pandora LIVE!, allows parents to log in to their machine while on the road, to review snapshots of activity and make physical changes to the program.
"If you are a busy parent always on the go," explains Coats, "You can log into the secure PC Pandora LIVE! severs through your smartphone and review all recorded activity. If you see your son has discovered a new, free pornography website, you can immediately block the website on your home computer."
While PC Pandora can be useful for anyone that needs to know what is happening on their PC, Coats says parents have the most to gain from this comprehensive, effective tool.
"It is 100% an issue of safety and good parenting," concludes Coats. "Whether it's talking to strangers, revealing too much about themselves online, or being involved in cyberbullying or sexting, if you aren't watching your kids online, how can you be sure they are playing it safe? Computer monitoring software like our PC Pandora is the best weapon you can use in the fight to keep them safe on the Internet."
About PC Pandora: Pandora Corporation was formed with one goal – to help our customers monitor, control and protect their families and themselves online. First released in mid 2005, PC Pandora has been constantly upgraded to industry-leading specifications and has received accolades from users, reviewers and even school districts and law enforcement agencies, who use the program to help in the day-to-day supervision of the children and citizens they are charged with protecting. The company website devotes space to helping parents by providing them with 18 Tips to Safe Surfing and Pandora's Blog, where current news in the world of online safety is discussed regularly. In addition, the Pandora Corp. has made the PD Pandora Internet Safety Symposium available to schools and law enforcement as a free resource for spreading internet safety awareness to parents. Over the past few years, PC Pandora has vaulted into a leadership position for parental control software by boasting a combination of features that are unparalleled in the monitoring industry. In 2010, Version 6.0 was released, again widening the spectrum of coverage and protection offered by the program. Concurrently released with 6.0, the web-based PC Pandora LIVE! service affords parents the ability to keep their kids safe from anywhere at anytime. PC Pandora is also now available through the Pandora Corp. store at Amazon.com.
Reporters and Producers: Covering Internet safety? We are your technology solution component. Software is available to journalists for review and testing. Executives are available for interviews. Let us help you show your audience how easy it can be to keep their kids safe on the Internet.
###