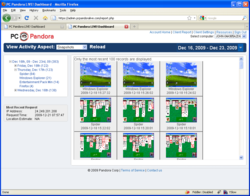 Las Vegas, NV (PRWEB) September 20, 2011
Last Friday, CBS aired a special episode of its 48-Hours Mystery series that focused on the national epidemic of cyberbullying. The special was the top-rated program in the 8PM hour, and averaged 4.73 million viewers. Pandora Corp., makers of PC Pandora computer monitoring software, is urging parents to heed the message and take action against the heinous act.
"It's time for parents everywhere to stand up, take action, and no longer tolerate this horrible epidemic," says Pandora Corp. co-founder, James Leasure. "Bullying has always been around. But the digital bullying that takes place today is a completely different ballgame, compared to the schoolyard bullying of 20-30 years ago. Cyberbullying destroys lives."
In the special episode of 48-Hours Mystery, a middle school in North Providence, Rhode Island was prominently featured. An informal survey conducted by the assistant principal found that at least 90% of their middle school students have cell phones, laptops or home computers.
"The extrapolated message in those numbers is that 90% of middle school students are online and communicating electronically," says Leasure. "That means at least 90% of the students in middle school have a doorway open to cyberbullying, either as the victim or as the bully."
The special reveals that since the middle school administrators began engaging their students about bullying, the number of bullying victims coming forward and talking about the problems they are facing has more than doubled. But despite these statistics, several students in the special admit, without hesitation, that coming forward and telling on bullies often-times only makes the torment worse. Leasure says these statistics and soundbites from the mouths of students speak volumes about the problem:
"This is a parenting issue as well as a kid issue. Cyberbullying thrives on anonymity; bullies are able to torment their victims behind a cloak of anonymity both online and insider their own home. It is great that schools are getting involved in the fight, as they should be; but cyberbullying will simply never stop until the parents of the bullies know what their children are doing online, and care enough to step in and stop it."
Pandora Corp. makes PC Pandora computer monitoring software. Like a DVR for your TV, PC Pandora records everything and anything on your PC, allowing parents to see everything their child is doing both online. Parents can see screenshots of all activity, plus text-based logs of all Facebook and social network posts and chats, instant messenger conversations, websites visited and much more. Whatever a child does on the computer, good or bad, PC Pandora will show their parents everything. Leasure says having this knowledge and monitoring Internet activity is essential in the fight against cyberbullying.
"We've taken the strong position at Pandora Corp., and asserted the fact that parents should be just as concerned about having a bully in the house, as they would about a victim," he states. "Signs of a victim are easier to spot, and your kids may be more willing to talk to you about it. But you can be certain that no bully is telling their parents how badly they are treating others online or at school."
Cyberbullying has made state legislators, school districts and even the federal government take notice. According to cyberbullying.org, 46 states have anti-bullying laws on the books; 34 of them have been updated to include electronic harassment. In addition, 44 states require schools to have specific policies for bullying.
"Parents should know what laws are there to help them, in the event their child becomes a victim," Leasure explains. "On the other hand, parents need to be proactive and make sure their child is not an aggressor in any way. Schools are updating policies, and legislators are updating and adding new laws that can make something your child thinks is 'just a joke' into an incident that can remain with them for years. No one needs that – just like no one needs bullying."
It is essential for all parents to monitor their children's activity and behavior on the Internet, just as they would in real life, in order to help put an end to cyberbullying. Fortunately, tools like PC Pandora make it easy. For more information on PC Pandora, visit the website at http://pcpandora.com and "like" the and on PC Pandora Facebook page! If you missed the 48-Hours Mystery special episode on cyberbullying or wish to watch it again, CBS has made it available on their website.
About PC Pandora: Pandora Corporation was formed with one goal – to help our customers monitor, control and protect their families and themselves online. First released in mid 2005, PC Pandora monitoring software has been constantly upgraded to industry-leading specifications and has received accolades from users, reviewers and even school districts and law enforcement agencies, who use the program to help in the day-to-day supervision of the children and citizens they are charged with protecting. The company website devotes space to helping parents by providing them with 18 Tips to Safe Surfing and Pandora's Blog, where current news in the world of online safety is discussed regularly. In addition, the Pandora Corp. has made the PD Pandora Internet Safety Symposium available to schools and law enforcement as a free resource for spreading internet safety awareness to parents. Over the past few years, PC Pandora has vaulted into a leadership position for parental control software by boasting a combination of features that are unparalleled in the monitoring industry. In 2010, Version 6.0 was released, again widening the spectrum of coverage and protection offered by the program. Concurrently released with 6.0, the web-based PC Pandora LIVE! service affords parents the ability to keep their kids safe from anywhere at anytime. PC Pandora computer monitoring software is also now available through the Pandora Corp. store at Amazon.com and on and on Facebook!
###