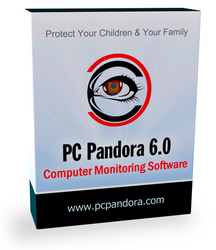 That's when things took a turn for the worst
Las Vegas, NV (Vocus) July 27, 2010
Last week, a media firestorm erupted around an 11-year-old girl who was cyberbullied mercilessly by anonymous members of an Internet website. According to ABC News, the young girl – self-dubbed "Jessi Slaughter" – was bullied online, being accused of sexual promiscuity and called various insulting names.
"That's when things took a turn for the worst," says Jamie Leasure, co-founder of Pandora Corp., makers of PC Pandora 6.0 computer monitoring software. "Instead of alerting her parents, Jessi took matters into her own hands and became an aggressor herself."
Jessi videotaped a 5-minute video rant, raging at her online tormentors. Filled with an astonishing amount of profanity and violent threats of her own, her tirade proved to be the fuel that lit a bonfire. A swarm of more experienced and vicious web-savvy users virtually pounced on her and the insults and threats started coming fast and furious.
News reports say the girl's full name and personal details were eventually posted online. Death threats soon followed, and the family was moved into protective custody. The dust has settled now, but state police are investigating the matter and Jessi is in therapy.
Leasure says the key to reducing cyberbullying is stopping incidents as quickly as possible. In the case of "Jessi Slaughter," the situation may have been avoided had the parents been aware of the initial bullying she was experiencing.
"It stands to reason that if Jessi's parents knew she was being bullied, and that some folks were saying un-kind things about her online, they could have stepped in to help her before she took matters into her own hands," explains Leasure. "Parents must be aware of what their child is doing online and what is happening in their digital lives. Just as much as parents should be concerned when their child is a victim, they should take steps to make certain their child is not an aggressor in any way, or making an easily-resolvable situation worse."
Cyberbullying is the epidemic that parents, educators and the government must immediately focus on. Advocacy groups and experts are calling for and suggesting solutions, but the success of halting this global problem hinges almost entirely on the parents of the kids involved – both those of the victims and the bullies.
Pandora Corp. is the maker of PC Pandora 6.0 computer monitoring software. Much like the DVR on your TV, PC Pandora records everything and anything you tell it to on your PC. The software makes it possible for parents to view screenshots of everything their child does on the computer and view all emails sent and received, instant messenger conversations, social networking chats and posts, websites visited and much more. Whatever a child does online, good or bad, PC Pandora will show the parents everything.
"PC Pandora 6.0 lets parents know exactly what their young surfers are doing online and see first-hand how they are interacting with others," explains Leasure. "If their child is being bullied, they will have records and information they can use to help put an end the situation before it gets worse."
PC Pandora can also work on the flip-side, when a parent may have a bully in their house.
According to Leasure: "In some situations, PC Pandora might reveal that a child is the aggressor or a participant in bullying others. If that is the case, parents will have the information needed to sit down and talk to their child. They can put an end to the behavior before schools or law enforcement get involved, or before the situation spirals out of control, like the recent incident."
FILTERING V MONITORING
The "Jessi Slaughter" situation also makes a clear case for the need to monitor Internet activity of all young surfers. While most parents feel filtering content and blocking a few websites is enough, it won't stop your child from creating a video of themselves and posting it on one website or another.
"You can block Facebook and YouTube, but they'll just go to MySpace and use Google Video," says Leasure. "A strong monitoring program like our PC Pandora 6.0 is essential in keeping kids safe online, because it eliminates the guesswork and false assumptions of safety – it shows you exactly what they are doing and tells you whether or not they are taking risks."
And when it comes to getting the job of monitoring Internet activity done right, PC Pandora has been recognized by PCmag.com as an "extremely effective" tool. As a top rated parental control and monitoring product, numerous easy-to-use features and a low price point make PC Pandora a popular choice for many parents.
"The big takeaway from this story should be that it is essential for all parents to monitor their young child's activity and behavior on the Internet just as they would in real life," says Leasure. "Fortunately, we have made the task of doing this incredibly easy with PC Pandora 6.0. There's no reason not to know what your kids are doing on the Internet."
For more information and a free trial of the new PC Pandora 6.0, visit http://pcpandora.com.
About PC Pandora: Pandora Corporation was formed with one goal – to help our customers monitor, control and protect their families and themselves online. First released in mid 2005, PC Pandora has been constantly upgraded to industry-leading specifications and has received accolades from users, reviewers and even school districts and law enforcement agencies, who use the program to help in the day-to-day supervision of the children and citizens they are charged with protecting. The company website devotes space to helping parents by providing them with 18 Tips to Safe Surfing and Pandora's Blog, where current news in the world of online safety is discussed regularly. In addition, the Pandora Corp. has made the PD Pandora Internet Safety Symposium available to schools and law enforcement as a free resource for spreading internet safety awareness to parents. Over the past few years, PC Pandora has vaulted into a leadership position for parental control software by boasting a combination of features that are unparalleled in the monitoring industry. In 2010, Version 6.0 was released, again widening the spectrum of coverage and protection offered by the program. Concurrently released with 6.0, the web-based PC Pandora LIVE! service affords parents the ability to keep their kids safe from anywhere at anytime. PC Pandora is also now available through the Pandora Corp. store at Amazon.com.
Reporters and Producers: Looking to cover this topic? We are your technology solution component. Software is available to journalists for review and testing. Staff members are available for interviews. Let us help you show your audience how easy it can be to keep their kids safe.
###