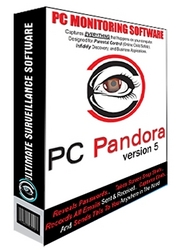 Parents are really getting it from all sides
New York, NY (PRWEB) February 18, 2008
Pandora Corp. announced today the official release of PC Pandora Version 5.0, the latest revision of their signature software. New, improved monitoring capabilities come at a time when parents are being barraged with horror stories of young Internet behavior and are looking for a solution to keep their kids safe online.
From threats of Internet predators, to rampant cyberbullying to kids simply being kids and not recognizing the full effect of their actions, the 'margin for error' on the Internet is wide. And while local law enforcement executes sting operations and state legislatures rush to put better laws in place to ensure safe surfing, experts agree the best defense is a good offense - at home. Pandora Corp. has pledged to give parents the help they need.
"Parents are really getting it from all sides," explains co-founder Manuel Coats. "Stories of sexual predators on social network websites, TV specials on the risky behavior and secret lifestyle of young internet surfers, 'expert' advice on how to raise your kids, the list goes on."
But it seems the one thing they don't get is a concrete technology solution, and Coats says that's where technology and PC Pandora comes in.
Welcome to 21st century parenting. PC Pandora monitoring software works like a DVR for your PC. By recording and taking sequential snapshots of what is on the computer screen, PC Pandora 5.0 enables parents to see exactly what their children saw - and did. In addition, it has all the features that other programs utilize, such as website filtering, program blocking, keystroke logging, and it will even email a busy parent at work with updates on their child's activity. The new PC Pandora 5.0 builds upon its established first-rate monitoring capabilities and tosses a few new tricks into the bag, including a new webcam capture, chat control blocking and file tracking. They have also given the user interface a makeover and improved the fundamental stealth tactics and database technologies.
"Parents know that kids are savvy enough to bypass most Internet filters and controls. That's why we feel that being able to see what your kids are doing is just as important as setting up roadblocks and restricting access. If you can see what they are doing, you can talk to them about it and keep them in check," says Coats.
Pandora Corp. has continuously urged parents to educate themselves about the Internet and to talk to their kids about potential dangers. Like most experts, Coats says that discussion is key. Monitoring software like PC Pandora will give parents the knowledge they need to confront their child about appropriate online behavior. For many parents, it will offer reassurance and - hopefully - peace of mind.
"The bottom line here is you have to know what your kids are doing online," says Manuel Coats. "Where they are going and who they are talking to is key. We feel strongly that PC Pandora is the best all-around defense parents can get to help keep their children safe online. If someone is approaching a child with ill intentions, or if a child is engaging in risky behavior, the parent will know."
As a special promotion to celebrate the Version 5.0 release, the company is offering the software at a discounted price. Parents can use the code 'ver5' at the [pcpandora.com store to get $10 off the Standard or Pro editions (2 licenses) of the program. You can also find 18 Tips for Safe Surfing on their website, http://www.pcpandora.com/.
Alarming Statistics Concerning Young Internet Activity:
· According to Pediatrics' Growing up With Media Survey of 1,588 youths aged 10-15, 15% percent of kids reported receiving an unwanted sexual solicitation online in the last year; 33% reported being harassed online in last year.
· The same report shows both unwanted sexual solicitations and harassment more commonly occurring via instant messaging and in chat rooms than through social networking sites.
· According to 2006's Online Victimization of Youth: Five Years Later report, 34% of youth online have had unwanted exposure to sexual material - pictures of naked people or people having sex. 27% of the youth who encountered unwanted sexual material told a parent or guardian; however, if the encounter was defined as "distressing," 42% told a parent or guardian.
· 71% of all parents stop monitoring their child's use of the Internet after the child turns 14, not knowing that 72% of all Internet-related missing children are 15 years of age or older. - Dist. Attny, Cnty of Los Angeles
About PC Pandora: Pandora Corporation was formed with one goal - to help our customers monitor, control and protect their families and themselves online. First released in mid 2005, PC Pandora has been constantly upgraded to industry-leading specifications and has received accolades from users, reviewers and even school districts and law enforcement agencies, who use the program to help in the day-to-day supervision of the children and citizens they are charged with protecting. The company website devotes space to helping parents with 18 Tips to Safe Surfing and Pandora's Blog, where current news in the world of online safety is discussed regularly. PC Pandora has vaulted into a leadership position by boasting a combination of features that unparalleled in the monitoring industry. In February 2008, Version 5.0 was released, again widening the spectrum of coverage and protection offered by the program. In addition, through the company's Safe Schools program, schools and school districts can receive up to $100,000 worth of software to aid in protecting their students and their PCs. PC Pandora is also now available through the Pandora Corp. store at Amazon.com.
For More Information: Ken Shallcross: ken@pcpandora.com
###