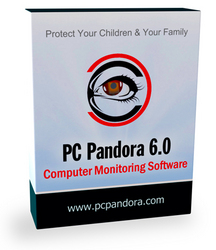 In the 21st century, the playgrounds are digital
Las Vegas, NV (Vocus) May 27, 2010
The calendars say summer doesn't start until June 21st, but everyone knows the two events that really signify the start of summer are Memorial Day and school dismissal. With Memorial Day weekend just ahead and school bells starting to ring, summer vacation is just around the corner for millions of kids across the country.
The mid-year break used to mean playing outside all day with friends and hanging out with the neighborhood gang until the sun went down. A parent's main concern was where their kids physically were and who they were hanging out with.
"In the 21st century, the playgrounds are digital," explains Jamie Leasure, co-founder of Pandora Corp., makers of PC Pandora 6.0 monitoring software. "The physical concerns of yesterday need to be expressed for the Internet today: who is your child hanging out with and what websites are they visiting?"
No school means children will be spending more time online, as they sit at home during the summer days; but it also means an increase in two prevalent online threats: sexual predators and cyberbullies.
"Parents need a solution that will effectively keep their kids safe on the Internet while the parent is outside the home," says Leasure. "Ideally, it's going to be something that removes any doubt and shows the parent exactly what their child is doing, while also being something they can check from work. That is exactly what our PC Pandora 6.0 monitoring software was created for."
PC Pandora is computer monitoring software that records all activity on the PC. Screen snapshots that can be viewed with a DVD-like playback function give PC owners the ability to see exactly what happened on their computer. The program also creates text-based logs of all emails sent and received, instant messenger conversations, websites visited, programs used, peer-to-peer activity and keystrokes. Data is presented in easy-to-read charts to provide parents with a quick and easy way to see exactly what their kids are doing and where they are spending their time online.
"The key to real internet safety is knowledge," says Leasure. "You have to know what your kids are doing in order to keep them safe. Filters are easy to get around and provide a false sense of security, but monitoring Internet activity with PC Pandora allows you to see absolutely everything that happens. If your child is talking to strangers and forming relationships online, you will see it; if your child is involved in cyberbullying, as victim or bully, you will see it."
For parents that have to leave the kids at home this summer and go to work, PC Pandora comes equipped with the IRIS feature, which sends email updates to parents at specified intervals.
"Our IRIS email report feature is an indispensable tool for every working parent," says Leasure. "IRIS allows them to monitor their child's online behavior while at work or otherwise away from the home. You can see what websites your kids are on and who they are talking to while you are away."
But the newest feature of PC Pandora 6.0 is the one parents will find priceless. PC Pandora LIVE! allows parents to access the data recorded by PC Pandora from anywhere in the world through a safe and secure SSL encrypted website. All that's needed is an Internet connection and a web browser; users can even log in from their iPhones™ and other handheld devices.
"With the LIVE! service, you can review the data and adjust settings on the monitored computer," explains Leasure. "Not only can you can check web history and view instant messenger and email conversations, but you can view the screenshots, update Internet filters, and fine-tune the parental control parameters, all while at work, on the road, or simply unable to be at home in front of the monitored computer."
For users monitoring multiple computers, PC Pandora LIVE! collects the data from all of the computers that you are monitoring and provides that data in a single place for easy review. While the IRIS function built into PC Pandora is still a great tool, LIVE! makes it easier to view your child's activity – no more emails to comb through and no more having to manually view the data on multiple computers.
"The bottom line is you have to know what your kids are doing online," says Leasure. "Where they are going and who they are talking to is key, especially while they are home alone all day. We feel strongly that our PC Pandora 6.0 monitoring software coupled with the LIVE! service is the best all-around defense parents can get to help keep their children safe online. If someone is approaching a child with ill intentions, or if a child is engaging in risky behavior, the parent will know and can act immediately."
A 2-hour trial of PC Pandora is available at http://www.pcpandora.com. A summer promotion is currently running; use the code SUMMER2010 at checkout to save $10!
About PC Pandora: Pandora Corporation was formed with one goal – to help our customers monitor, control and protect their families and themselves online. First released in mid 2005, PC Pandora has been constantly upgraded to industry-leading specifications and has received accolades from users, reviewers and even school districts and law enforcement agencies, who use the program to help in the day-to-day supervision of the children and citizens they are charged with protecting. The company website devotes space to helping parents by providing them with 18 Tips to Safe Surfing and Pandora's Blog, where current news in the world of online safety is discussed regularly. In addition, the Pandora Corp. has made the PD Pandora Internet Safety Symposium available to schools and law enforcement as a free resource for spreading internet safety awareness to parents. Over the past few years, PC Pandora has vaulted into a leadership position for parental control software by boasting a combination of features that are unparalleled in the monitoring industry. In 2010, Version 6.0 was released, again widening the spectrum of coverage and protection offered by the program. Concurrently released with 6.0, the web-based PC Pandora LIVE! service affords parents the ability to keep their kids safe from anywhere at anytime. PC Pandora is also now available through the Pandora Corp. store at Amazon.com.
Reporters and Producers: Looking to cover this topic? We are your technology solution component. Software is available to journalists for review and testing. Staff members are available for interviews. Let us help you show your audience how easy it can be to keep their kids safe on the Internet.
# # #