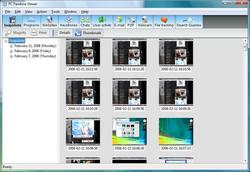 This poll should be an eye-opener for everyone, especially parents
Las Vegas, NV (Vocus) March 3, 2010
According to a new poll released by the National Cyber Security Alliance (NCSA), our kids are not receiving adequate education when it comes to navigating the Internet in a safe and ethical manner. In fact, the poll revealed that over 50% of schools do not require this type of life-lesson curriculum at all. But despite the lack of education, over 90% of teachers, administrators and technology directors feel this type of education is necessary.
"This poll should be an eye-opener for everyone, especially parents," says James Leasure, co-founder of Pandora Corp., makers of PC Pandora 6.0 computer monitoring software. "Everyone is saying that education in cybersafety, cyberethics and cybersecurity is important, but it's not being taught in schools concurrently with basic computer and Internet skills."
The State of K-12 Cyberethics, Cybersafety and Cybersecurity Curriculum in the U.S. Survey, conducted by Zogby International, with support from Microsoft, found very "low levels of integration of key cyberethics, cybersecurity, and cybersafety topics into everyday instructional activities."
For example, despite the record number of teens on social networking websites, only 27% of teachers discussed the safe use of such websites in their class in the past 12 months. Only 18% taught about scams and fraud tactics (e.g. phishing), and only 19% covered the topic of safe and secure passwords.
"Before kids are taught how to set up an email address or even open Internet Explorer, they should be getting a lesson on the threats that are prevalent online, and how to adhere to a code of good ethical conduct on social networks," states Leasure.
Part of the lack of formal curriculum in schools on cyberethics, cybersafety and cybersecurity can be attributed to the 'blame game.' According to the poll, 72% of teachers asked said they felt parents bear the primary responsibility for teaching these three important topics. However, somewhat contradictory to that number is the fact that 51% of school administrators replied that teachers are responsible for these lessons.
Leasure says this is not the time to wait around for school districts to officially change their curriculum or teachers to voluntarily incorporate the lessons into their classes.
"It's time for parents to understand that they are the principal instructors when it comes to teaching their kids how to use the Internet safely and ethically – and that is exactly where PC Pandora 6.0 monitoring software and PC Pandora LIVE! service come into play."
PC Pandora 6.0 is the newest version of Pandora Corp's flagship computer monitoring software. The tool helps parents know exactly what their children are doing online and how they are using the computer. It starts by taking sequential snapshots of everything that happens on the computer screen, allowing them to play back everything their child did with DVR-like features. Further details of user activity are made available in text-based files, including transcripts of emails sent and received and instant messenger chats, plus full logs of websites visited, keystrokes toggled, peer-2-peer files shared, programs accessed, Internet search queries and more.
"Parents using PC Pandora will know exactly what their children are doing online," explains Leasure. "This gives parents an edge and the ability to have discussions with their child regarding the best ways to enjoy, use and participate in the online community. Talking within the family is key, but an un-informed discussion is fruitless and frustrating for both sides."
PC Pandora 6.0 incorporates a new feature from of the company's recently-launched enterprise monitoring product, The Office Software (theOS): the presentation of recorded data through easy-to-read charts. This allows parents to quickly analyze recorded data and dig deeper, if necessary. In a quick glimpse, they can see which websites and which programs were utilized the most.
The new PC Pandora LIVE! service allows users to access the data recorded by PC Pandora from anywhere in the world. PC Pandora uploads recorded activity to the safe and secure SSL encrypted LIVE! website. All you need then is an Internet connection and a web browser to review the data and adjust settings on the monitored computer. You can even log in from your iPhone™ and many other handheld devices.
"We've given the power to parents who can't always be home when their kids are online to check web history, update Internet filters, and fine-tune the parental control parameters, all while at work or on the road," says Leasure.
On a final note, the survey also found more than 90% of schools have built up digital defenses, i.e. implementing filters and blocks, to protect children from online threats. But while this practice of shielding students may reduce the risks kids face on the school computers, it does nothing to prepare them for using the Internet safety throughout their daily lives.
"It's pretty common knowledge that kids are savvy enough to bypass standard Internet filters and controls," explains Leasure. "That's why we feel that being able to see what your kids are doing is just as important as setting up filters and restricting access. If you can see what they are doing, you will have the advantage of full knowledge when you talk to them about their activity."
Leasure also points out that Pandora Corp's enterprise monitoring software, The Office Software, can be used by schools to see how kids are using the school computers and help enforce the concepts of cybersafety, cyberethics and cybersecurity.
"The Office Software is be a perfect fit for any school district," states Leasure. "The network-based tool will not only show you how students are using the school machines, but it will allow you remote access to their desktops to keep them in check."
For more information and a free trial of the new PC Pandora 6.0 and PC Pandora LIVE!, visit http://www.pcpandora.com/live/whats-new.php. For information on The Office Software (theOS), visit http://www.theofficesoftware.com.
About PC Pandora: Pandora Corporation was formed with one goal – to help our customers monitor, control and protect their families and themselves online. First released in mid 2005, PC Pandora has been constantly upgraded to industry-leading specifications and has received accolades from users, reviewers and even school districts and law enforcement agencies, who use the program to help in the day-to-day supervision of the children and citizens they are charged with protecting. The company website devotes space to helping parents by providing them with 18 Tips to Safe Surfing and Pandora's Blog, where current news in the world of online safety is discussed regularly. In addition, the Pandora Corp. has made the PD Pandora Internet Safety Symposium available to schools and law enforcement as a free resource for spreading internet safety awareness to parents. Over the past few years, PC Pandora has vaulted into a leadership position for parental control software by boasting a combination of features that are unparalleled in the monitoring industry. In 2010, Version 6.0 was released, again widening the spectrum of coverage and protection offered by the program. Concurrently released with 6.0, the web-based PC Pandora LIVE! service affords parents the ability to keep their kids safe from anywhere at anytime. PC Pandora is also now available through the Pandora Corp. store at Amazon.com.
Reporters and Producers: Looking to cover this topic? We are your technology solution component. Software is available to journalists for review and testing. Staff members are available for interviews. Let us help you show your audience how easy it can be to keep their kids safe.
###