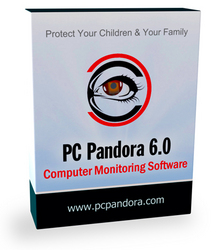 no one-size-fits-all, once-and-for-all solution to providing children with every aspect of online child safety.
Las Vegas, NV (Vocus) June 8, 2010
A new report by the Online Safety and Technology Working Group is calling for increased Internet safety education efforts and fewer scare tactics and reliance on filtering content.
The report notes that young peoples' real lives are becoming synonymous with their online ones. Thus, there is "no one-size-fits-all, once-and-for-all solution to providing children with every aspect of online child safety." The group says that instead, there needs to be a "comprehensive toolbox" from which adults can choose the proper tool to keep kids safe online as they grow in both worlds (real and digital).
"We absolutely agree," says James Leasure, co-founder of Pandora Corp., makers of PC Pandora 6.0 computer monitoring software. "Internet safety can only be achieved with the use of many tools. PC Pandora is one of the most valuable tools available to both parents and educators alike."
The big take-away message from the report is the importance of education. The group recommends strong messaging about the realities of the Internet and its dangers, while avoiding fear tactics. Digital citizenship and media literacy should be promoted in the online world, just as moral values, life skills and dangerous pitfalls are taught in the real world. But Leasure says education is a two-way street.
"Parents need to be educated too," he explains. "The best place to start is with the knowledge of what your kids are actually doing online. You can learn theory all you want but if you don't have the simple knowledge of your child's online activity, practicing Internet safety is nearly impossible."
While the report notes there is no "quick fix or silver bullet" in the technology realm to keep kids safe online, Leasure notes that PC Pandora is about as close as you can get.
PC Pandora 6.0 computer monitoring software records all activity on the PC. Screen snapshots that can be viewed with a DVD-like playback function give parents the ability to see exactly what their kids are doing on their computer. The program also creates text-based logs of all emails sent and received, instant messenger conversations, websites visited, programs used, peer-to-peer activity, keystrokes and more. Data is presented in easy-to-read charts to provide a quick and easy way to have full knowledge of what children are doing on the Internet and where they are spending their time.
The report also calls for all adults to "engage in ongoing awareness-building efforts" and for parents specifically to talk to their kids when monitoring activity or utilizing controls. Leasure stresses that every situation is different, and parents probably have the best judgment regarding what route to take with monitoring their families' PC.
"Every family is going to be different," he says, "but the numerous features of [PC Pandora] make it a universal tool that can work in any home."
Finally, the report mentions the new epidemic of cyberbullying, noting it as the most prevalent threat to kids online. Leasure says PC Pandora can help stop bullying online, not only by letting parents know if their child is being victimized, but also by letting the parents of bullies know about their child's aggressive behavior online: "It gives them the chance to step in and stop it before schools administrators and law enforcement get involved."
A 2-hour trial of PC Pandora is available on the PC Pandora website. A summer promotion is currently running; use the code SUMMER2010 at checkout to save $10!
About PC Pandora: Pandora Corporation was formed with one goal – to help our customers monitor, control and protect their families and themselves online. First released in mid 2005, PC Pandora has been constantly upgraded to industry-leading specifications and has received accolades from users, reviewers and even school districts and law enforcement agencies, who use the program to help in the day-to-day supervision of the children and citizens they are charged with protecting. The company website devotes space to helping parents by providing them with 18 Tips to Safe Surfing and Pandora's Blog, where current news in the world of online safety is discussed regularly. In addition, the Pandora Corp. has made the PD Pandora Internet Safety Symposium available to schools and law enforcement as a free resource for spreading internet safety awareness to parents. Over the past few years, PC Pandora has vaulted into a leadership position for parental control software by boasting a combination of features that are unparalleled in the monitoring industry. In 2010, Version 6.0 was released, again widening the spectrum of coverage and protection offered by the program. Concurrently released with 6.0, the web-based PC Pandora LIVE! service affords parents the ability to keep their kids safe from anywhere at anytime. PC Pandora is also now available through the Pandora Corp. store at Amazon.com.
Reporters and Producers: Looking to cover this topic? We are your technology solution component. Software is available to journalists for review and testing. Staff members are available for interviews. Let us help you show your audience how easy it can be to keep their kids safe on the Internet.
# # #