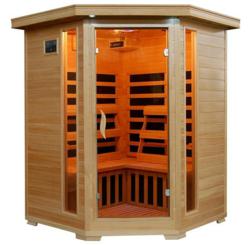 St. Paul, MN (PRWEB) November 30, 2012
PcPools, one of America's leading direct marketers of saunas and pool supplies for residential and commercial consumers, is pleased to announce a 17 percent increase in sauna sales. Blue Wave's HeatWave Saunas have been popular since they first became available at PcPools, but the last twelve months has seen a dramatic increase in sales. This evidently mirrors a much broader trend: Kalevi Ruuska, president of the North American Sauna Society (NASS), estimates that some 15,000 saunas are sold annually in the United States, and that those numbers are growing by about 10 percent per year.
Marketing Director Steven Anderson had this to say: "There is a clear trend toward healthier living that is taking place in America. People are making an effort to live healthier, and for many, part of that process is finding ways to purify and relax. Saunas have been used for those purposes for centuries, and PcPools' trailing twelve months of sales suggests the concept is catching on domestically at a previously unforeseen clip."
He continued: "I think people are trying to find ways to de-stress and improve their own health, and in doing so, weighing the cost of things like 'spa weekends' against the cost of their own sauna at home. Once they realize they can use their personal sauna without being forced to drop everything, the choice is simple."
Sauna ownership offers numerous health advantages – including ailment relief, detoxification, and even weight loss – and does so in a relaxed setting. PcPools' wide variety of sauna sizes can meet the needs of any household or budget. The one person Buena Vista sauna is currently on sale for $839.99!
About PcPools
PcPools is one of America's leading multi-channel direct marketers of swimming pool supplies and equipment to the residential and commercial swimming pool markets in the United States. Founded in 2000 by a leading executive in the pool supplies industry, it has since been dedicated to providing residential and commercial pool owners with high quality swimming pool supplies and equipment at warehouse direct prices. PcPools product line includes above ground pools, automatic pool cleaners, pool liners, pool heaters, pool chemicals, pool covers and accessories, all of which are sold through catalog and internet channels. PcPools' strong relationship with leading pool supplies manufacturers and distributors creates a truly unique product offering of quality and value for its customers.