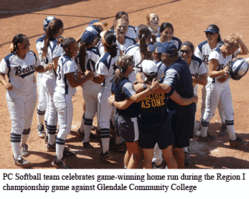 This team really embodies the word team. -- Phoenix College Softball Coach Mueller
Phoenix, AZ (PRWEB) May 17, 2012
The Phoenix College softball team will face The Community College of Baltimore County-Catonsville, Md. in the first round of the NJCAA Division II National Championship Tournament, which runs May 17-19 in Clinton, Mississippi.
The Phoenix College softball team will be aiming for its 9th national title. They face CCCB-Catonsville, Md. (44-11) on Thursday, May 17.
The Bears (51-15) enter the 16-team tournament ranked number two in the nation behind top-ranked Louisiana State University-Eunice, La. (53-9). The team is loaded with talented players, says Head Coach Heinz Mueller, but he knows his team must play its best softball to capture the title.
"At this point, all the teams are capable of winning it," said Coach Mueller, now in his 22nd season as PC Head Coach. "We can't make light of any opponent. Just because we are ranked number two in the nation doesn't mean we're the second-best team."
Good pitching, defense and timely hits make up the formula for success in the playoffs, he said.
"It's still a game of execution," he said. "We have a really good team offensively but in the playoffs the offense isn't usually as productive because the pitching from other teams improves so much."
Although Coach Mueller was hesitant to single out any one player, the team is led by pitchers Gina VanArsdall and Sarah Ray along with hitting production from Desirea Gil, Rachel Meyer, Megan Johnson, and Krystal Garcia.
"This team really embodies the word team," said Coach Mueller, who earned his 1,000th win as an NJCAA Division II coach in March to go along with seven national titles. "We count on everyone to contribute."
The double elimination tournament also gives players great exposure on and off the field. It includes banquets, socials, a home-run derby and a fireworks display.
"All the girls are really excited about this trip," Coach Mueller said. "We haven't been there (national tournament) in two years so everybody is looking forward to it."
For more information on the Bears' opponents and tournament schedule, go to http://www.njcaa.org and click on Sports and go to Softball, Division II.
Phoenix College is one of 10 regionally accredited Maricopa Community Colleges.