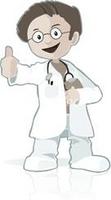 I have helped provide medical attention at auto accidents, on a plane and even provided stitches to friends on my dining room table. Being a doctor is an intrinsic part of who I am
San Mateo, CA (PRWEB) October 3, 2007
"Is there a doctor in the house?" may sound like a line from popular medical television shows like Grey's Anatomy or Scrubs, but a recent survey by Epocrates Inc. revealed that it occurs in the real world as well. A survey of more than 400 physicians and other healthcare professionals by the PDA medical software company uncovered some interesting experiences and attitudes about healthcare and advice outside of the exam room.
The survey found that:
•Is there a doctor in the house? -- Three out of four medical professionals consider their career a way of life, not just a job, and have responded to a request for spontaneous medical attention at a public place, such as at a shopping mall or restaurant.
•Hippocratic Oath or lawsuit? -- Fear of malpractice lawsuits have caused some clinicians to consider holding back from providing medical assistance outside of their hospital or practice. More than half of survey respondents agreed they hesitated to provide off-duty medical care because of potential legal repercussions.
•Leave it at the office -- Being a medical professional is no doubt rewarding and well respected, but it can also bring some unwanted questions, as captured in the popular book, 'Why do Men Have Nipples?' When asked about avoiding unsolicited medical questions, 68 percent of respondents confessed that they have refrained from introducing themselves as a healthcare professional to enjoy their personal time.
"I have helped provide medical attention at auto accidents, on a plane and even provided stitches to friends on my dining room table. Being a doctor is an intrinsic part of who I am," said Michelle Condon, MD, Grand Rapids, Michigan.
Note: Visit Epocrates Insights for comprehensive survey results and to read comments from practicing clinicians about their experiences and opinions about providing medical care to family, friends and strangers in need.
About Epocrates Inc.
San Mateo, Calif.-based Epocrates is transforming the practice of medicine by developing innovative mobile software and web-based solutions that support clinical decisions at the point of care. More than 500,000 healthcare professionals, including more than one in four U.S. physicians, actively use Epocrates' medical software to improve patient safety, avoid drug interactions and save time. The company's services also enable communication between its users and healthcare organizations such as pharmaceutical manufacturers, government agencies and market research firms. For more information about Epocrates, please visit http://www.Epocrates.com.
All trademarks are properties of their respective owners.
###