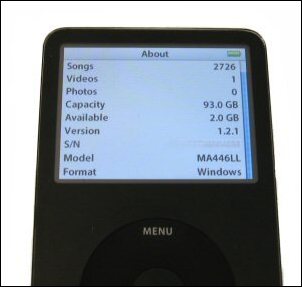 PDASmart has released the 100gb iPod upgrade that everyone has been seeking even before Apple did
Austin, TX (PRWEB) March 27, 2007
PDASmart , the leading developer of iPod® performance upgrades and accessories, announced today the immediate availability of a 100 gigabyte hard drive upgrade for the iPod® Video. The PDASmart 100gb upgrade installs in an existing 60gb or 80gb iPod® Video without any modifications to the case. A new rear casing is available for the 30gb model to allow for the slightly larger hard drive size. The PDASmart 100gb hard drive upgrade will extend iPod storage capacity to 25,000 songs or allow for a whopping 125 Hours of Video storage!
The extra storage capacity of the PDASmart upgrade is priceless wherever you go -- on an airplane, beach, or anywhere you'd like to relax with your iPod Video, "PDASmart has released the 100gb iPod upgrade that everyone has been seeking even before Apple did," said Jim Nipp, President of PDASmart. "The PDASmart 100gb iPod Upgrade makes sure you'll never be without the storage space you need for your data, music or videos."
Developed by PDASmart, the first company to offer a complete line of repair and upgrade parts along with internal battery replacements for the Apple iPod line, the PDASmart 100gb upgrade also allows your iPod Video to double as a portable hard drive for backups and file storage, delivering the capacity you need for your critical files without crowding out the ability to store music and videos.
You can send your iPod Video into the PDASmart iPod Repair Center for the skilled technicians there to install or simply order the do-it-yourself kit which includes all of the tools necessary for a successful upgrade. For the iPod Video 30GB model, you will need the 30gb retrofit rear casing that replaces your 30gb rear case with a new one to allow for the larger hard drive size. The upgraded 100gb iPod will be no larger than an existing 60gb iPod Video and will work with all 60gb/80gb accessories on the market.
PDASmart 100gb Upgrade Features:
Provides Storage for 25,000 Songs or 125 Hours of Video.
Complete, internal solution - no external adapters or software drivers needed
Plug-and-Play ease-of-use.
The PDASmart 100gb Upgrade is compatible with the Apple iPod Video 30GB, 60GB and 80GB models. The do-it-yourself kit includes the Toshiba 100gb drive and all of the tools necessary for the installation. You can send your iPod Video (working or not) into the PDASmart iPod Repair Center and have them install the upgrade for just a few dollars more.
The 100gb Drive Upgrades are available immediately through the exclusive direct distributor PDASmart at http://www.pdasmart.com. As of this release, Apple Computers has not released the 100gb iPod Video.
Technical Specifications
Works with: Any Apple iPod video Model 30GB, 60GB, or 80GB
Drive Manufacturer: Toshiba
Size: 54.0 x 71x0 x 8.0 mm
Weight: 59g.
Power Consumption: Reduced to 0.003w / GB (New, lower power drive released at CES 2007)
Capacity: 100 Gigabyte
Part Number: MK1011GAH
Warranty: 1 year from Manufacturer, 90 Days from PDASmart.com
About PDASmart
Since 2003, Optimistic Enterprises, Inc. (PDASmart.com, iPaqRepair.com) has been recognized as the leading repair and upgrade center for PDA and iPod devices. PDASmart is headquartered in Cedar Park (Austin), Texas. Dealer inquiries are welcome by calling (512) 528-0333 or by emailing sales @ pdasmart.com.
PDASmart and the PDASmart website are in no way associated with Apple Computer, Inc. iPod is a registered trademark of Apple Computer, Inc.
# # #