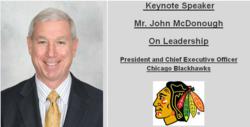 Rosemont, IL (PRWEB) September 13, 2012
PMI-Chicagoland's annual Professional Development Day (PDD) 2012 for Chicago area project management professionals will be held on Friday, September 28 at the Hyatt Regency O'Hare, 9300 Bryn Mawr Avenue, Rosemont, IL 60018. PDD 2012 will also celebrate the chapter's 35th Anniversary. This year's theme is "Growing Managers into Leaders."
PDD 2012 will feature a keynote presentation by John McDonough, President and Chief Executive Officer (CEO) of the Chicago Blackhawks, who was instrumental in what Forbes Magazine has called "The Greatest Sports-Business Turnaround Ever". The Blackhawks have revitalized the team's profile and re-energized its fan base.
There will be 24 workshop sessions covered in 6 tracks.
Other top rated topics and speakers include:
Risk Management - Texas Holdem Tactics for the Project Manager - Dr. James Brown, PMP, SEBA Solutions
What constitutes a leader AND why can't we lead? - Mr. Lee Lambert, PMP, PMI Fellow, Lambert Consulting Group
Getting 40% more cooperation and productivity from your team - Ms. Tracy Duez, CAC, CSM, Break Free Consulting
Prairie Waters Project implementation of Lean Enablers - PMI Project of the Year (2011) - Mr. Lawrence Catalano, Manager of Capital Projects, City of Aurora, CO
O'Hare Modernization Project - Mr. Khaled Naja, Chief Operating Officer, City of Chicago Department of Aviation
The Professional Development Day is a unique opportunity for professionals who lead and impact projects to learn about the latest trends and techniques regarding project management. Project Management professionals attending can earn up to seven professional development units (PDU's), by attending workshops in six key areas of interest for project management professional. Points are earned and used toward professional re-certification in PMI.
The six areas of study are Leadership skills, Collaboration, Intellectual Property and Negotiations, Agile technologies and Risk Management, Advanced Topics and Case Studies, Core Project Management skills and Future Leaders, a track designed for students of project management disciplines.
PMI-Chicagoland's Professional Development Day is also an opportunity for project managers to network and learn from each other. "Jobs today are not found simply by looking through want ads or responding blindly to postings on the internet," said Ira Hendon (PDD 2012 Conference Chair and Director of Special Events) who is spearheading the event. "Jobs are won by continually updating your knowledge and networking with people."
Attendance for the event is limited to the first 500 people registering, which promotes an intimate learning environment and a good variety of networking opportunities.
Registration for Professional Development Day ends on Sept 25th and is $349 for members ($399 non-members). This price covers the entire day of workshops and networking and includes Continental Breakfast, Lunch and Networking reception.
Visit [http://www.pmi-chicagoland.org for additional details and to register.
For more information contact:
Ira M. Hendon, MBA, PMP®
PDD 2012 Conference Chair and Director of Special Events
email: pdday(at)pmi-chicagoland(dot)org
Media Contact: Anjali More PMP (Director of Pubic Relations) PMI Chicagoland, email: publicrelations(at)pmi-chicagoland(dot)org