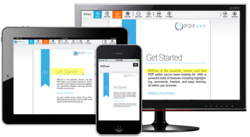 PDFzen will always be free to mark up, share and collaborate on documents.
Dallas, TX (PRWEB) October 04, 2012
According to CEO Darren Matheny, PDFzen is the polar opposite of other PDF editors. "Most PDF software can be really confusing to users. There is no learning curve to PDFzen. No user guide is required. The leading PDF editor requires users to install bloated, legacy software. PDFzen is lightweight and elegantly simple. Especially since no apps or plugins are required."
Responsive HTML5 means that PDFzen is cross-platform and there is no software to download. Users can edit, share, and fax PDFs directly from their browser - even from an iPhone & iPad. "The bottom line for users is that PDFzen makes document collaboration painless. You can markup a document just like you would if it were on your desk - even place a wet ink signature," Matheny said. For those dealing with users still stuck in the 20th century, faxes can be sent with PDFzen for a nominal fee. All of this can be done in the web browser with nothing to install. It doesn't matter if users are on a PC, Mac, iPhone or iPad.
As a web application, PDFzen makes it dead simple to share and collaborate on documents. Users can share links privately for collaboration, publish directly to social media, or embed a document on their own site. Docudesk has been refining its online document tools since 2007, bringing the best of this technology to PDFzen.
"We debuted the first HTML5 PDF editor in 2008. Since then, 'HTML5' & 'The Cloud' have grown to become buzz words," said Vice President Nicholas Thomas. "A lot of cloud offerings have been lackluster, and companies are struggling to integrate. Sometimes they even come up with their own definitions of what these terms mean." Although collaboration & cloud integration is an afterthought with legacy PDF software, with PDFzen its in the DNA.
The best news for end-users however, will probably be the price tag. Although PDF software can cost hundreds of dollars, PDFzen will always be free to mark up, share and collaborate on documents. The only option that users can incur expense for is the secure faxing feature. The pricing is inexpensive and the options are simple with pay-as-you-go and monthly choices.
Although no software is required to use PDFzen, Docudesk offers a useful free desktop tool in deskPDF Reader (PC & Mac). With this application installed users can create PDF files and upload to PDFzen with one click, making it easy to publish documents to the web directly from the desktop. Scan to PDF is also included in the Windows version of this free PDF reader, making deskPDF Reader + PDFzen an ideal free combo for users moving towards a paperless office.
PDFzen is available now at PDFzen.com
About Docudesk:
Docudesk Corporation is a private technology company with headquarters in Dallas Texas. With a suite of popular desktop, server, and web applications, Docudesk offers advanced e-document solutions to individual users & Fortune 500 companies alike. ServerPDF gives companies the opportunity to integrate with the HTML5 PDF technology powering web apps like PDFzen. Licensing options include private cloud hosting as well as self-hosted installations.
With over 250,000 enterprise and small-business customers worldwide, Docudesk products provide users a seamless transition to a paperless office. For more information please visit http://www.docudesk.com