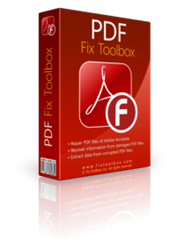 The latest version of PDF Fix Toolbox becomes more efficient than before in all available configurations.
Alexandria, VA (PRWEB) January 15, 2013
New and improved engine of PDF fix, provided by PDF Fix Toolbox, offers its users more chances for Adobe Acrobat restoration and analyses the structure of PDF documents within several minutes regardless the complexity of problem. The testimonials section of Fix Toolbox website tells users what do others think about the efficiency of PDF fix engine, powered by this application. The efficiency of PDF Fix Toolbox execution is increased in every new version of this software so the latest version of this service features the highest efficiency of PDF file restoration.
There is no need to worry about the severity of data corruption issue anymore, the latest version of PDF Fix Toolbox improves its PDF fix engine and repairs corrupted documents easily, providing very high efficiency of analysis using heuristic data recovery algorithms, powered by Fix Toolbox application developer.
PDF Fix Toolbox provides many features, improving the quality of analysis, but it does not mean the restoration of Adobe Acrobat documents should be complicated. This service is safe and easy for everyone, it is possible because the restoration of PDF files implies the usage of several buttons only, the algorithm of PDF fix looks like the decompression of packed files.
Fix Toolbox keeps on developing powerful data recovery engines for more than twenty popular formats, including Adobe Acrobat documents. These programs are known for their ease, safety and highest efficiency of data processing. The WEB-address of Fix Toolbox is: http://www.pdf.fixtoolboxx.com/