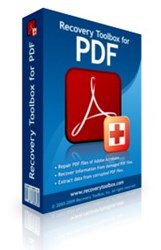 the most recent addition to the company's growing portfolio that dramatically simplifies the process of PDF recovery.
Sacramento, CA (PRWEB) May 06, 2013
Recovery Toolbox, a company known for its expertise in the field of file repair and recovery tools, gladly announces the recent release of Recovery Toolbox for PDF, one of the most efficient and by far the fastest and easiest to use solutions of its kind. Based on a completely rewritten file analysis core, it offers considerably improved speed and accuracy of recovery, and its simple interface enables users with no IT background at all to recover the contents of damaged PDF files without any problems.
The program efficiently recovers nearly all standard elements of PDF documents: their content, including text, hyperlinks, images and forms; fonts and all relevant meta-data; document parameters, such as version and page size; and the document structure based on tables of internal cross-links. This PDF recovery tools comes with a simple, clean and truly self-explanatory interface that guides the user from A to Z and minimizes the possibility of a human mistake. Additionally, the program allows the user to manually select the version of the output file. All other stages of the recovery process are fully automated and its overall duration depends only on the size of the file being recovered and the speed of the user's system.
"PDF is by far the most popular format for document exchange these days. And since we have billions of PDF documents online and on users' systems, some of them will get damaged one day," explains Victor Bobrov, Senior Product Manager at Recovery Toolbox. "Our tool recovers all valuable bits and pieces from corrupted PDF documents and does it way better than others. It's that simple!"