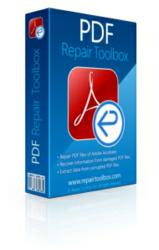 the program features better data analysis algorithms, improved performance and the same intuitive interface that makes it a good fit for professionals and regular users.
Alexandria, VA (PRWEB) November 19, 2012
Repair Toolbox releases a completely reworked version of PDF Repair Toolbox, its ultimate PDF repair tool. The software quickly and accurately restores data from unreadable PDF files damaged during interrupted downloads, as the result of file system errors, hardware failures, power shortages and other factors.
PDF Repair Toolbox works with all versions of PDF files, which makes it a versatile solution for users dealing with a large number of files from various sources. PDF recovery program is based on a set of advanced proprietary algorithms that ensure maximum PDF repair efficiency and speed of data recovery. PDF Repair Toolbox is capable of identifying and restoring non-linked pages and embedded media objects that are not displayed in the body of the document due to file corruption. Other program features include the ability to open compressed and uncompressed PDF files and even correct file saving errors found in a number of PDF editors.
"We live in a world full of PDF documents. Nearly every meaningful public document online is saved in the PDF format, and these files do get damaged, broken, unreadable," says Ivan Bobrov, Head of Development at Repair Toolbox. " Given our vast experience in creating great file repair and data recovery solutions, it would be a shame no to release a tool that would help users recover data from PDF documents. And we are anything but ashamed of the result – the program demonstrates outstanding efficiency even in situations with badly corrupted files."
A demo version of the program with limited data saving functionality is available for immediate download.
Official site: http://www.repairtoolboxx.com/
Software page: http://www.pdf.repairtoolboxx.com/