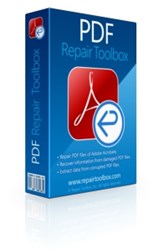 PDF Repair Toolbox, a new version of its highly successful PDF repair tool.
Sacramento, CA (PRWEB) July 04, 2013
Repair Toolbox, a company known for its deep expertise in compact, easy to use and powerful data recovery solutions for a broad range of mainstream applications, releases a major update of PDF Repair Toolbox, a powerful PDF repair product that helps users restore data from damaged PDF files. Created for non-professionals looking for a way to recover PDF documents on their own as quickly as possible, PDF Repair Toolbox features a clear and straightforward wizard-driven interface that requires no special technical knowledge or skills.
The revamped recovery engine in the core of the program uses a combination of several file analysis algorithms that ensure maximum recovery efficiency in the most difficult cases of data corruption. Thanks to its innovative core, PDF Repair Toolbox is capable of finding and restoring non-linked pages in damaged files, finding and recreating links to media files and repairing known errors in files saved by PDF document editors. With its simplicity and rich functionality, the program is a great choice for users who regularly face data corruption while working with PDF files coming from various sources and on different media.
"We are very excited to present our new PDF repair tool featuring a brand-new engine that we spent so much time on," comments Ivan Bobrov, Senior Developer at Repair Toolbox. "We have tested it with damaged PDF files of different sizes, with completely different content and structure and found the result more than satisfying. I hope that the program will become a useful asset for many users out there looking for a truly reliable PDF repair solution."