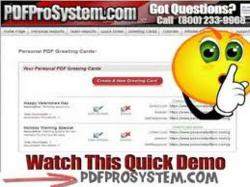 Anybody can cut prices, but it takes brains to make a better value
(PRWEB) May 01, 2012
This software has never been available before. The unlimited files and documents created in this software can be stored online and at any time edited and formatted. All files are personalized to the recipient. Spam is eliminated when sending documents in this PDF format. A great feature to compliment PersonalPDFpro is the ability to create 3D e-book covers.
This PDF creation software provides the ability to create PDF reports for multiple materials, products, services or business. Messages sent using PersonalPDFpro can be sent using AWeber or Get Response. Their links are created for each PDF file. Each link can be inserted within blogs, articles, Facebook, etc..
PersonalPDFpro features user friendly, formatting, design tools. All documents including images can be sent personalized to the selected individual. Make PDF files, store them and edit each whenever needed.
PersonalPDFpro is a PDF Editor features include designing Web Forms which are integrated with AWeber and Get Response. Web Forms inputted in blogs, landing pages, etc. where opt-ins get personalized PDF reports and messages. Create marketing material prior to sending, and then prepare a list of prospects in the marketing campaign. PersonalPDFpro then allows the material to be customized for the recipient. This software tool will make PDF files so each person feels like they are benefiting from a one on one relationship.
Learn more at http://personalpdfproreviewed.com
Established as an Internet marketing organization PersonalPDFpro is the leading software system serving small to large business worldwide, and the first to provide user friendly PDF editing, formatting and file creation features including Greeting Cards. PersonalPDFpro mission is providing trusted software. Please use the contact information below.