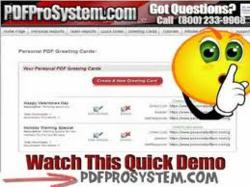 It is the mark of an educated mind to be able to entertain a thought without accepting it.
(PRWEB) August 29, 2012
PersonalPDFpro creation software for Home Business entrepreneurs, eBook publishers, and more to upgrade their marketing efforts. This software has never been available before. Businesses can update their customer and employee communication in almost every way. PersonalPDFpro provides a spam free sales funnel increasing communication, conversions and makes business marketing research more interactive with followers.
PARTIAL LIST FOR PERSONALPDFPRO USE:
-Full Download Directions for Recipients to Save Their PDF Documents
-All PDF Documents Include Direct Links for AWeber and GetResponse
-Build Unlimited Web Forms for Any PDF Report You Create
-Every PDF Report Is Fully Integrated With AWeber and Get Response
-Require People to Opt-In To Your List Prior To Downloading Reports
-Include Your PDF Documents into Any Marketing Effort You Apply
-Automatic Tracking Of Downloads For Every PDF Document You Create
-Edit and Make Changes to Any PDF Document You Create At Any Time
-Complete Access to Creating PDF Documents 24 Hours A Day
Create an Unlimited Number of Personalized PDF Greeting Cards
No Software to download and no Hosting required
Affiliates earn $197.00 paid directly
Complete Support Staff Available
These superior software tools include creating Personal Reports, Team Reports, Note Creation, Greeting Cards and more.
When you create a PDF report using PersonalPDFpro each team member`s contact information is inserted into the report as if they produced it. Also it can be personalized to any recipient any of your team members forward it to.
PersonalPDFpro is the leading software system serving small to large business including home business niche marketers around the world, and the first to provide user friendly PDF editing, formatting and file creation features. Their mission is providing trusted user friendly PDF software systems.
Thousands want a PDF creator software tool including many beginners to make PDF format files. PersonaPDFpro is the answer. If experienced, PersonalPDFpro is still a great product because of all the beneficial features. Do not look further than this product! http://personalpdfproreviewed.com