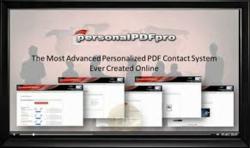 I never knew these upgraded tools were available in PDF format. This PDF software gives my business a super advantage.
(PRWEB) April 27, 2012
Personalized PDF marketing system is new software. Develop unlimited PDF documents for marketing efforts. The unlimited files and documents created can be stored online and edited, formatted 24 hours a day and sent to every visitor, prospect or customer. And each PDF can be injected into Blogs, Articles, Classifieds or anywhere marketing online. Creating 3D e-book covers is an additional feature available.
This software is a PDF creator and also provides the ability to create PDF reports for multiple materials, products, services or business. Links can be included if using Weber or Get Response. Offer reports and other documents right from a blog, facebook, etc.
These superior software tools include creating Personal Reports, Team Reports, Note Creation, Greeting Cards and more.
PersonalPDFpro will embed the name of every visitor, prospect or customer in any PDF document created. This major breakthrough system includes user friendly editing and formatting tools. All documents can be sent personalized in PDF format. Master reporting for sales staff. Photos and images can be included whether creating team reports or personal reports. Each report can contain team member`s contact information and can be inserted into the report as if those team members produced it. Also the PDF can be personalized to any recipient that any team members send it to.
PersonalPDFpro Quick Notes feature allows an original message to be sent out including the link to your PDF Quick Note in your email. Word document to PDF is standard. Recipients will click on the link to receive their personalized PDF with the full message intact. Quick Notes controls spamming.
PersonalPDFpro greeting cards are created with a personal photo right on the card. Include a personal message and each message is personalized to its recipient. All major holidays included.
Direct links to personal reports are included as well as links to Weber and Get Response.
About:
PersonalPDFpro is the leading software system serving small to large business around the world, and the first to provide user friendly PDF editing, formatting and file creation features. Anyone can join PersonalPDFpro. Their mission is providing trusted software to its members. Please use the contact information below.
Learn more at http://personalpdfproreviewed.com