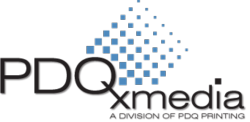 Well executed cross media marketing campaigns generate a sales lift of 7-34% versus traditional marketing approaches
Las Vegas, NV (PRWEB) February 04, 2013
PDQ Printing of Las Vegas has announced the launch of PDQ XMedia, a comprehensive cross media marketing solution. PDQ XMedia will allow organizations to integrate any component of variable data, including direct mail campaigns with personalized URLs, emails, SMS text messages, QR codes, and social media channels.
Cross media marketing refers to the concept of communicating through multiple channels with multiple touches. Personalized online and offline marketing messages are packaged to dramatically increase customer engagement. Research from the Internet Advertising Bureau demonstrates that well executed cross media marketing campaigns generate a sales lift of 7-34% versus traditional marketing approaches.
PDQ XMedia provides the platform to manage all aspects of a cross media marketing campaign, right down to real-time reporting and sales lead generation. PDQ provides a live dashboard to track the behavior of your contact list. Quantifying the return on marketing investment (ROMI) is a mouse click away.
"The problem with most cross media marketing campaigns is that there are too many disparate elements to manage" said Jared Baker, Director of Integrated Marketing at PDQ Printing. "With PDQ XMedia, everything is simplified. Our clients are presented with a single platform to handle all the different parts of a cross media campaign. They also get real-time reporting to see what is working and what needs a different approach."
About PDQ Printing
Now in their fourth decade, PDQ began as a humble local printer in Las Vegas, servicing local small businesses and the local Trade Show & Convention industries. Over the years PDQ has grown with their client partners to be the premier printing company serving the world's largest convention and meeting space concentration that is literally just steps from their doors.
PDQ Printing of Las Vegas is a full service union printer. They are the ultimate all inclusive provider, offering more services than any other printer in Nevada. They have a solid reputation and highly equipped facility at your disposal. PDQ provides you with fast, accurate, friendly service at an affordable cost.
PDQ is proud to have all your print needs under one roof. Call today and let PDQ print your next big project.