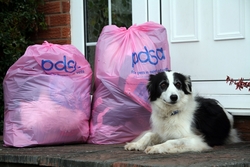 A combination of the recession and poor weather has hit our donations hard. Nationally, we have seen a 22 per cent fall in the amount of bags coming through the doors, compared to this time last year.
UK (PRWeb UK) February 23, 2010
A severe drop in donations to charity shops across the UK has left PDSA struggling to stock its shelves. The veterinary charity, which provides free care to the pets of people in need, says donations have hit an all-time-low, which could be bad news for poorly pets.
"A combination of the recession and poor weather has hit our donations hard," said Andrew Holl, PDSA Director of Business Services. "Many of our stores are facing an all-time-low on clothing and bric-a-brac. Nationally, we have seen a 22 per cent fall in the amount of bags coming through the doors, compared to this time last year."
South Yorkshire was the worst-affected area, where bag donations slumped by a shocking 47 per cent. Wales was also badly affected, and saw a 37 per cent drop in donations. Stores across the South Coast saw donations plummet by 28 per cent.
Regional statistics:
Area Decline in donations compared to 2009
National -22%
Scotland -12%
Northern Ireland +41%
North East -6%
North West -25%
North Yorkshire -9%
South Yorkshire -47%
Midlands -14%
Wales -37%
London -18%
East Anglia -18%
South Coast -28%
South West +2%
The appeal is part of a wider initiative called 'Donate, Don't Waste' being run by the Association of Charity Shops. Launching on 22 February, one hundred charities, including PDSA, have teamed up to increase the amount of donations and raise awareness of the environmental benefits of giving clothing to charity. If each household in the UK donated one extra black bag of clothing, it could save 25 million bags from ending up in landfill and raise over £740 million for good causes.
PDSA's network of over 170 shops helps to raise millions for the charity which provides its veterinary services through 48 pet hospitals across the UK and through a network of 350 private practices.
Andrew Holl added: "The weather has had a huge impact on our shops, with heavy snowfall preventing our supporters from making donations. People are also keeping hold of their clothes for longer, and are less likely to donate items during the current economic climate. As a result we've seen stock levels plummet, which is very worrying.
"At the same time, demand for our services has risen by 25 per cent in the last two years, as more people find themselves on benefits. We really need people to get back into the habit of donating their unwanted items to their local charity shop and support our SOS appeal."
Clothes, especially jumpers, jackets, skirts and dresses, as well as shoes, handbags, belts and jewellery are urgently needed. Bric-a-brac, CDs, DVDs and books are all welcome too. Further funds can be raised by people signing up for Gift Aid when they donate their unwanted items.
To find your nearest PDSA charity shop, visit http://www.pdsa.org.uk/finder
Glum outlook: PDSA charity shops hit by recession and bad weather
ENDS
Notes to Editors:
Leading veterinary charity, PDSA, provides free veterinary care to the sick and injured pets of people in need and promotes responsible pet ownership. The charity operates through a UK-wide network of 43 PetAid hospitals, 5 PetAid branches and some 352 contracted private practices (PetAid practices).
This year PDSA PetAid hospitals and branches will provide more than 2 million free treatments and more than 360,000 preventive treatments, such as vaccinations, neutering and microchipping. In addition, more than 40,000 pets are registered for PDSA-funded veterinary care through PetAid practices.
Delivery of PDSA PetAid services will cost more than £50 million this year. The charity is funded entirely by public support; mainly donations, gifts in wills and trading.
To be eligible for PDSA care, pet owners must be in receipt of either housing benefit or council tax benefit and live within the designated postcode catchment area of their local PDSA PetAid service.
Potential and existing clients can obtain more information on PDSA PetAid services by phoning 0800 731 2502 or by logging onto http://www.pdsa.org.uk.
PDSA operates over 170 charity shops UK-wide and is supported by 4,800 volunteers.
The charity asks that it is referred to by its initials, PDSA, in all editorial rather than by its legal name The People's Dispensary for Sick Animals.
PDSA and PetAid are registered trademarks of PDSA.
For further information, interviews and photography please contact Lisa Nickless or Jenny Davies in the PDSA Press Office on 01952 204775 or email nickless.lisa(at)pdsa.org.uk or davies.jenny(at)pdsa.org.uk
###