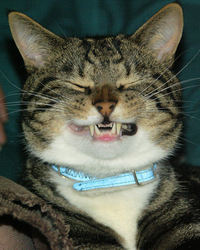 We're searching for photos that capture a pet's likeness to a famous face or its owner.
(PRWeb UK) June 18, 2010
Vet charity PDSA has launched a national photo competition to discover the UK's top pet 'poseurs'. Two hilarious lookalike categories form part of this year's competition in addition to the usual 'cutest pet' prize. So if your dog is the doppelganger of your Dad, or your cat is the spit of a celeb, then you could be a winner.
"We're searching for photos that capture a pet's likeness to a famous face or its owner," said PDSA spokesperson, Lisa Nickless. "We also have a posing pet category, for those four-legged friends who just love showing off in front of the lens."
Enter your pictures into PDSA's annual Pets Gallery competition either online at http://www.pdsa.org.uk/petsgallery or call into one of PDSA's stores to pick up an entry form.
Competition entrants are invited to make a minimum £1 donation to help PDSA in its work to care for sick and injured pets. The charity has seen a 20 percent increase in demand for its services since the recession, stretching the available resources, so every donation will make a difference.
"We want all pets to be completely natural, so there's no need to dress them up in clothes or accessories," added Lisa. "And by giving a donation, you will also be helping PDSA to provide free veterinary treatment to the pets of people in need across the UK."
The closing date is Friday 30 July 2010. Competition winners will be announced in September.
Photographs submitted at PDSA stores will be displayed in the shop for the duration of the competition. The selected winning photographs will also feature on PDSA's website.
PDSA regrets that it cannot return photographs. By submitting photographs entrants are agreeing to the terms and conditions* of the competition.
Notes to Editors:
*See application form for details
Leading veterinary charity, PDSA, provides free veterinary care to the sick and injured pets of people in need and promotes responsible pet ownership. The charity operates through a UK-wide network of 43 PetAid hospitals, 5 PetAid branches and some 352 contracted private practices (PetAid practices).
This year PDSA PetAid hospitals and branches will provide more than 2 million free treatments and more than 360,000 preventive treatments, such as vaccinations, neutering and microchipping. In addition, more than 40,000 pets are registered for PDSA-funded veterinary care through PetAid practices.
In 2010, delivery of PDSA PetAid services will cost more than £50 million. The charity's PetAid services are funded entirely by public support and we receive no HM Government funding.
To be eligible for PDSA care, pet owners must be in receipt of either housing benefit or council tax benefit and live within the designated postcode catchment area of their local PDSA PetAid service.
Potential and existing clients can obtain more information on PDSA PetAid services by phoning 0800 731 2502 or by logging onto http://www.pdsa.org.uk.
PDSA operates over 170 retail stores UK-wide and is supported by over 5,000 volunteers.
The charity asks that it is referred to by its initials, PDSA, in all editorial rather than by its legal name The People's Dispensary for Sick Animals.
PDSA and PetAid are registered trademarks of PDSA.
For further information, interviews and photography please contact Lisa Nickless or Jenny Davies in the PDSA Press Office on 01952 204775 or email nickless(dot)lisa(at)pdsa(dot)org(dot)uk or davies(dot)jenny(at)pdsa(dot)org(dot)uk
###