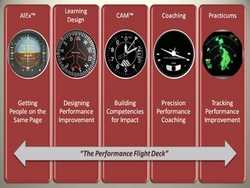 Senior Partner, Nick Anderson says that: "The new site more accurately represents PDS Group's shift over the last 10 years toward aligning people first to ground our other work in change management, especially changing sales behavior and improving results
Grand Rapids, MI (PRWEB) March 8, 2010
PDS Group's new Web site goes live on Monday March 8th (http://www.pdsgrp.net). "The Performance Flight Deck" is the centerpiece of the new site's design.
Senior Partner, Nick Anderson says that: "The new site more accurately represents PDS Group's shift over the last 10 years toward aligning people first to ground our other work in change management, especially changing sales behavior and improving results. We see this is as a significant differentiator in helping more change initiatives succeed."
The new site includes three libraries of free resources, including recordings of Nick's Monthly Radio Show: Walk the Talk – Radio for Agile Minds
About PDS
PDS Group professionals specialize in strategic alignment to ensure the goals of any productivity improvement are realized. How? By making change objective and personal using a methodology AlEx™ - Aligning Expectations. AlEx(tm) has helped clients add millions in sales, bring construction projects in-on-time and to budget, and successfully transition family-owned businesses. This process can be used from small leadership teams up to organization-wide alignment projects.
# # #