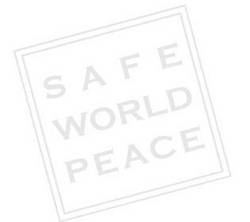 I designed my jewelry to symbolize a prayer that I have. It is that the major religions of the world exist in peace and harmony. Each necklace sends a strong and clear message of universal goodwill -- a message that is fundamental to the future of our planet
Salt Lake City, UT (PRWEB) October 19, 2008
Safe World Peace, the collection of diamond necklaces and other fine jewelry, has recently launched in the U.S. Each necklace, bracelet, or earrings are meant to promote peace between Christians, Muslims, and Jews.
The collection, launched in London, is now available in through jeweler O.C. Tanner, and can be found on the Safe World Peace Now web site - at http://www.safeworldpeacenow.com or by calling 1.888.246.6217.
The collection includes diamond necklaces, bracelets, and earrings all with three words - safe, world, and peace. Each is represented by three strong symbols - the Christian Cross, the Star of David, and the Islamic Crescent. Each piece was designed to inspire respect, tolerance, and harmony and is a prayer and a message to promote universal goodwill.
Of the jewelry pieces in the Safe World Peace collection is a dramatic necklace in white gold with black diamonds. The cross, star of David, and Islamic Crescent moon are in diamonds and the word "safe" and "peace" are on either side of the necklace. The necklace features 18k white gold and .55 carat diamonds.
Fadia Otte, already a successful jewelry designer, created the collection out of her desire to survive and spread a message of tolerance and unity. Born in Beirut, Lebanon, she witnessed war at an early age. When she was eight, war spread to London, and bombs killed her brother and nearly took her own life.
"After the death of my brother on the 28th of September 1989 by bomb, I left Lebanon feeling that the world is then my country. Unfortunately, the hatred and the ignorance of people was stronger then my thoughts. I created this message of peace sharing our cultures our traditions without killing each other. We are all one, with only one God, and the blood is red for every body. This is the basis of my jewelry." Otte said
Recently, Fadia is fighting another battle, which is also intensely personal. She was diagnosed this year with breast cancer this year and is undergoing chemo therapy. This has only made her more determined to champion the idea of a peaceful world. "I designed my jewelry to symbolize a prayer that I have. It is that the major religions of the world exist in peace and harmony. Each necklace sends a strong and clear message of universal goodwill -- a message that is fundamental to the future of our planet," she said.
The line debuted at the Academy Awards in March 2006 and then this year appeared at the Cannes Film Festival. Celebrities who have worn the necklaces, include Sean Penn, Dennis Hopper, Jude Law of "Peace One Day", Billy Zane, Fergie, John Schneider, and Sharon Stone have worn Safe World Peace necklaces. Goldie Hawn was featured in Us Weekly magazine in May in which she was wearing the necklace at the Cannes Film Festival.
By selecting jewelry from Safe World Peace, customers will be promoting the peaceful coexistence of all religions as well as helping a worthy cause. Safe World Peace will donate ten percent of sales to charities that support worthy causes for children of all faiths and cultures.
About Safe World Peace
The mission of Safe World Peace is to give back and to promote peace between diverse faiths and cultures of the world. A portion of all sales from Safe World Peace http://www.safeworldpeacenow.com - including diamond necklaces, gold earrings, and white gold bracelets - is donated to organizations that support children in need of all faiths worldwide.
Customers can find the perfect peace jewelry for every occasion, with unique jewelry for gifts and special events such as interfaith weddings, events honoring cancer survivors, and anniversaries. View the Safe World Peace collection at http://www.octannerstore.com
###