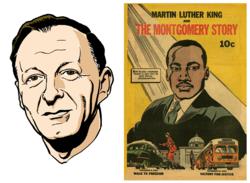 All we need is 3,700 kind persons around the world to donate $10 each to make our dream a reality.
Vienna, Austria (PRWEB) September 28, 2011
The first film in the series, "Walking with Alfred Hassler, Thich Nhat Hanh and Sister Chan Khong," will reveal the superheroes interconnected and powerful stories, taking you on a journey from their first meeting in war-torn Vietnam to the "Arab Spring" in Tahir Square, Eqypt where Alfred Hassler´s idea in 1956 for the long forgotten "Montgomery Story" comic book about Martin Luther King, Jr., was translated into Arabic in 2009 and used in Eqypt's nonviolent uprising.
According to the campaign website, the goal of the film is to show that there is a hero inside of every single one of us, and to provide concrete examples of how we can use nonviolent methods to change ourselves, and therefore the world.
"This film is about releasing to a diverse audience something that can do wonders for planting seeds of compassion, grace and love in a modern, easily accessible way."
http://www.peaceisthewayfilms.com
A fundraising campaign for the part feature documentary, part animated comic book film has been launched on IndieGoGo, an international online crowd funding platform specializing in independent and innovative film projects.
http://www.indiegogo.com/peaceisthewayfilmseries1
The story of the making of this film series began at DePaul University in Chicago where Gregory Kennedy-Salemi, one of the founding project members, sat reading a copy of "Peace is the Way: Writings on Nonviolence from the Fellowship of Reconciliation," a collection of essays and musings from some of the world's preeminent leaders of the peace movement, including Martin Luther King, Jr., Alfred Hassler and Thich Nhat Hanh, whom Oprah Winfrey had on her show in 2010.
"Thich Nhat Hanh has been a Buddhist monk for more than 60 years, as well as a student at Princeton, a University professor at Columbia University, writer, poet, and vocal opponent of war—a stance that left him exiled from his native Vietnam for four decades. But beneath Nhat Hanh's serene demeanor is a courageous warrior.
"The 84-year-old, who joined the monastery when he was 16, valiantly opposed his own government during the Vietnam War. Even as he embraced the contemplative life of a monk, the war confronted him with a choice: should he remain hidden away in the monastery tending to matters of the spirit, or go out and help the villagers who were suffering?
"Nhat Hanh's decision to do both is what gave birth to "Engaged Buddhism"—a movement that involves peaceful activism for the purpose of social reform. Martin Luther King, Jr. called Nhat Hanh "an apostle of peace and nonviolence" and this is what led MLK to nominate him for a Nobel Peace Prize in 1967."

From Oprah Winfrey talks to Thich Nhat Hanh
"The Martin Luther King and the Montgomery Story" comic book was conceived in 1956 by the late Alfred Hassler, a former Fellowship of Reconciliation (F.O.R.) executive director and creative visionary, who worked closely with and supported other "superhero" visionaries, namely Thich Nhat Hanh, Sister Chan Khong, MLK, Erich Fromm, Bayard Rustin; the March on Washington organizer, and numerous others.
Alfred Hassler consulted directly with Martin Luther King, Jr. on the comic book, who wrote Alfred a letter saying that "Again, I would like to say what a fine piece of work this is. You have done a marvelous job of grasping the underlying truth and philosophy of the movement. I am sure that this comic book will be welcomed by the American public. Please feel free to call on me at any time." 
The comic book was a huge success, although it was dangerous to own one in the southern USA states. 240,000 original comics were printed although only 20 originals still exist today, with one being in the Smithsonian Museum.
Since its initial publication, the MLK comic book was translated into Spanish in 1960 and used throughout Latin America. The comic book has since then been translated into several languages, most recently into Farsi, where it is being used underground in Iran.
Sister Chan Khong, whose birthname is Cao Ngoc Phuong, was born in a Vietnamese village on the Mekong River Delta in 1938. Cao Ngoc Phuong began working at age 13 helping poor people in slums. In 1964, she joined Zen master Thich Nhat Hanh.
Throughout the civil war in the country, she fed the hungry, built communes, buried the dead, and tried to be a serene presence in the midst of terrible violence. "If we just worry about the big picture, we are powerless. So my secret is to start right away doing whatever little work we can do. I try to give joy to one person in the morning, and remove the suffering of one person in the afternoon. . . . That is the secret. Start right now."
During the production of the film, Greg and Stu, the co-directors and co-producers, along with their film team, fondly referred to as the film team "sangha" (a Buddhist term for a spiritual community) have enabled their future audience to have an intimate look at all aspects of the film's creation – from personal interviews to behind the scene comic book creation sneak previews – through regular video updates on their IndieGoGo campaign page and postings of research and new developments on the film's homepage.
"Life waits patiently for true heroes.  It is dangerous when those aspiring to be heroes cannot wait until they find themselves. When aspiring heroes have not found themselves, they are tempted to borrow the world's weapons, money, fame, and power to fight their battles. These weapons cannot protect the inner life of the hero. - Thich Nhat Hanh
###