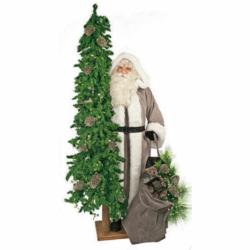 The attention to detail and quality craftsmanship is evident in all Ditz Designs pieces. We especially love the Ditz Designs Bear Tree designs - perfect for fall decorating and also a great addition to a mountain or lake house to be enjoyed year round.
Duluth, GA (PRWEB) May 21, 2013
Peace, Love & Decorating presents the Ditz Designs 2013 collection of life-sized Father Christmas figures, Bear Christmas Trees, Animal Footrests, and Standing Bears. The handmade pieces from the talented artisans at Ditz Designs by Hen House are the perfect addition to any seasonal home decor and continue to be family favorites. Each Ditz Designs Father Christmas figures, Bear Trees, and Animal Footrests are lovingly handcrafted in the United States and are designed to be treasured family heirlooms.
"The craftsmanship and attention to detail that goes into every Ditz Designs Father Christmas style is evident in the realistic features of each and every holiday piece," says Peace, Love & Decorating co-founder Jennifer Cook. "We first discovered the Ditz Designs collection in 2004 when we participated in a Holiday Showhouse in Atlanta and designed the boy's room. We included the Ditz Designs Tahoe Tree Bear in our boy's room to add a touch of seasonal whimsy and holiday cheer and were overwhelmed at the number of inquiries we received regarding the purchase. Since then, the Bear Christmas Tree collection has been a favorite of our staff," explained Jana Contardi, Peace, Love & Decorating co-founder.
The Ditz Designs Father Christmas Figures are inspired by the generous spirit of the legendary St. Nicholas and are original designs by Joyce Ditz and Debbie Ditz Ludwig. For the 2013 holiday season, Debbie Ditz Ludwig has designed a selection of beautiful new life-size Father Christmas figures. The new Ditz Designs introductions include Father Christmas Platinum Exposure, Father Christmas Children's Wishes, Father Christmas Jingle Holly and Father Christmas Grandmas's Attic. Ditz Designs also introduced a second edition of the popular Father Christmas Plaid Merriment Santa. Old world inspiration and nostalgic traditions shine through in the Children's Wishes Father Christmas Santa and Grandma's Attic Father Christmas Santa. The Jingle Holly style features Father Christmas holding a sweet puppy and is decorated with glitzy greens and reds, while making a unique and modern statement in the home. The Father Christmas Plaid Merriment 2nd edition has a simple elegance that is reminiscent of how beautiful the Christmas season is. The complete collection of life-size Father Christmas Santa figures are available from Peace, Love & Decorating with free shipping within the continental United States.
The new 2013 Ditz Designs Father Christmas small styles include a Platinum Christmas design and a fourth edition of the White Christmas design. The new Ditz Designs Platinum series, available in both the large and small Father Christmas designs, is perfect for the holiday decorator who wants to make a stylish statement with this monochromatic Father Christmas design. In addition to the small Father Christmas designs listed, Peace, Love & Decorating also offers the top selling Classic Bag of Toys small Father Christmas design featuring a classic Father Christmas character holding a bag of traditional Christmas toys.
Also available at Peace, Love & Decorating is the 2013 Ditz Designs by Hen House top selling Bear Tree collection. These adorable trees feature different types of bears hiding, playing and climbing among pre-lit evergreen trees. The top selling Ditz Designs Tree Bear styles include a 40" Polar Bear Tree, a 5' Christmas Offspring Black Tree, a 6' Tahoe Grizzly Bear Tree, and a Alpine Frolic Bear Tree. Each one of these limited edition trees adorned with climbing bears makes a delightful and festive statement.
The Footrest Animals from Ditz Designs by Hen House are built with a solid wooden frame and work as real footrests. The Ditz Design footrests are available in a variety of animals and are a delightful addition to any living room, office, or getaway retreat. The top selling Animal Footrests, available from Peace, Love & Decorating, include the Black Bear Footrest, the Grizzly Bear Footrest, the Moose Footrest, and the Natural Reindeer Footrest.
Peace, Love & Decorating also offers the 36" Standing Black Bear and the 58" Standing Smile Black Bear from Ditz Design by Hen House, both top sellers. These realistic and incredibly soft bears are built with solid wooden frames and are free standing to be placed anywhere around the home.
Peace, Love & Decorating offers an eclectic variety of home accessories, home decor and women's gifts. A fashion forward destination featuring the most sought after brands and manufacturers in the home decor and women's specialty marketplace, Peace, Love & Decorating moved their store location in March, 2012 to the historic section of downtown Duluth, Georgia at 3129 Main Street. Through extensive renovations, Jana and Jennifer transformed the century old building and restored much of the original character that now provides the perfect setting for their French inspired, European style mixed with urban flair. Shop Peace, Love & Decorating online at http://www.peaceloveanddecorating.com or visit the retail brick and mortar store located just thirty minutes north of Atlanta.