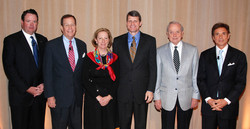 Behind the Headlines: Making the Most of Your Retirement
Atlanta, GA (Vocus) March 19, 2009
On Monday, March 16, 2009 Peachtree Hills Place hosted "Behind the Headlines: Making the Most of Your Retirement," a panel discussion that addressed issues such as estate planning, asset allocation, health care management, living wills, retirement strategies and various other financial topics appealing to the 70+ age group. Atlanta's seniors turned out to listen to advice given by experts on investing, estate planning, family planning, writing wills and more. The overall theme of the discussion focused on the importance to this age group of being prepared and asking questions to make smart investments.
The discussion, held at the Atlanta History Center, featured an expert group of panelists including: Jim Hansberger, Managing Director, The Hansberger Group; John J. Geraghty, Executive Vice-President of SunTrust Bank; Henry Bowden, founder of The Bowden Law Firm; Michael A. Mohr, Managing Director of The Bank of New York Mellon in Atlanta; and Donna Barwick, Senior Director of Wealth Management for The Bank of New York Mellon.
Hansberger explained that every period has danger and opportunity and that it is up to the smart consumer to take advantage of the opportunity by asking the right questions. He believes that a lack of regulation lead to today's troubled market, but was optimistic that mistakes made in the past can be reversed.
Geraghty stated that now is the time for questions and that as investors, Atlanta's seniors must remember to approach investing unemotionally and be firm on an investment philosophy. He also reassured the audience that the market will return to normal over time.
Bowden presented audience members with several important questions to ask their estate planner and advised attendees to find an estate planner that they could trust to ask these questions.
Mohr advised attendees that need the returns on their investments within the next five years to withdraw from the stock market and invest in more dependable growth-generating assets such as municipal bonds, but to stringently evaluate any decision to be prepared for its consequences.
Barwick addressed planning for the time when seniors will no longer be able to do so themselves. According to Barwick, the best way to keep peace among family members is to have complete transparency and open communication. Seniors should designate individuals now to make choices for them once they can no longer make decisions for themselves. She also advised attendees to write down all important information and make sure that designated people know what you have and where to find it.
Peachtree Hills Place member, Emory Schwall, moderated the discussion. Schwall is an Atlanta attorney, Certified Estate Planner and Special Assistant Attorney General for the State of Georgia representing the Insurance Commission.
"Behind the Headlines: Making the Most of Your Retirement" was the second discussion in a three-part series, hosted by Peachtree Hills Place, a residential community offering a continuum of care in Buckhead for people ages 55 and older, that will discuss he issues directly affecting this demographic.
The April discussion will focus on the health risks seniors face and how to manage the cost associated with future health care. For more information, visit http://www.peachtreehillsplace.com or call 404-467-4900.
Peachtree Hills Place is a residential community for people ages 55 and older seeking to live a secure, independent lifestyle with easy access to a continuum of healthcare. Peachtree Hills Place is being developed on the 23.3-acre site at the intersection of Peachtree Hills Avenue and Virginia Place, in the heart of south Buckhead, near Atlanta's best shopping, dining and cultural outlets. The new, $200 million community will include 274 independent residences, 36 skilled nursing and memory care suites, a clubhouse, fitness center, and greenhouse. Peachtree Hills Place will address the total wellness of its members, with programs and facilities in place to help members blend a satisfying life through Physical, Psychological, Social, Spiritual, Intellectual and Occupational components. When health status changes, members will have access to an on-site health center. Life Care Services, LLC, a leading management company of senior communities in the nation, will oversee management and administration of Peachtree Hills Place.
Isakson Living is Atlanta's leading developer of residential communities offering a continuum of care for adults ages 55 and older. Isakson Living upholds a personal and professional commitment to empowering members through groundbreaking wellness opportunities, concierge medicine and hands-on involvement in their communities. Isakson Living has won multiple awards for its flagship community, Park Springs in Stone Mountain, Ga., and Peachtree Hills Place in Atlanta, currently in development. For more information on Isakson Living, visit http://www.isaksonliving.com or call 770-559-4829.
MEDIA CONTACT:
Flammer Relations, Inc.
Amanda Winters
770-383-3360 x27
http://www.FlammerPR.com
# # #