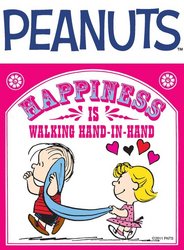 (PRWEB) February 7, 2011
Having declared 2011 "The Year of Happiness Is…," PEANUTS is offering a month-by-month guide to all the big and little things in life that make us happy at http://www.facebook.com/snoopy. And walking hand in hand, experiencing your first kiss in the rain, or a Valentine shared with the one you love is just the ticket for February. Let us count the ways to say "Be my Valentine"—PEANUTS style:
Tell it like it is—and always was. Enjoy the messages of friendship, hope and love (requited and otherwise) year-round with these PEANUTS books:
It all started with Lucy, Snoopy, and "Happiness is a warm puppy." Now the original collection of Charles M. Schulz's most beloved PEANUTS "Happiness is…" messages is available in Happiness Is a Warm Puppy, which will warm every heart. Available at Amazon for $5.95.
The appropriately heart-shaped Be My Valentine, Charlie Brown tells the story of the classic PEANUTS animated special in storybook form. Available at Amazon for $7.95.
Put it in writing—and pictures. For decades, Hallmark cards have captured the essence of PEANUTS' charm in witty greetings and classic images of the beloved characters: Snoopy and Woodstock, Lucy and Schroeder, Sally and her "Sweet Babboo" (a/k/a Linus)….they're all here, offering warm, hilarious, lovable Valentine messages. Available wherever Hallmark cards are sold; starting at $1.29.
Go soft and cuddly. What could make a person happier than a Cupid Snoopy plush? Guaranteed to inspire loving thoughts all year round, this adorable beagle with wings and arrow is available exclusively at Hallmark Gold Crown stores nationwide. Cupid Snoopy is interactive too—press the button to hear Snoopy giggle while his wings flutter to the tune of 'I Wonder Who's Kissing Her Now.' " Regularly $29.95, the plush is only $14.95 with each purchase of three Hallmark cards.
Pop some popcorn and pop in the PEANUTS DVD. Two classic PEANUTS DVDs from Warner Home Video celebrate the sweet and funny Valentine antics of Charlie Brown, Linus and friends:
In "A Charlie Brown Valentine," Charlie Brown finally works up the courage to call the little red-haired girl to ask her to the Valentine's Day dance. But once again he ends up broken-hearted and empty-handed when he dials the wrong number and reaches Peppermint Patty instead. The DVD includes the bonus special, Someday You'll Find Her, Charlie Brown. Available at Amazon for $9.49.
In "Be My Valentine, Charlie Brown," hearts are fluttering on Valentine's Day at Birchwood School, and Linus has brought a huge box of candy for his homeroom teacher. Thinking that the candy is for her, Sally reciprocates with a homemade card for Linus. Lucy meanwhile, demands some affection from Schroeder, and Charlie Brown waits for his cards in the mail…and waits…and waits… . This deluxe remastered DVD also includes two other short features, along with the mini-featurette, "Unlucky in Love: An Unrequited Love Story," discussing the themes of love in the PEANUTS comic strip with Jean Schulz (widow of Charles Schulz), producer Lee Mendelson, author Jonathan Franzen, and others. Available at Amazon for $13.49.
Both of these classic PEANUTS specials will air on ABC on Friday, February 11 (8:00–9:00 ET).
Offer sweets to your sweetie. These PEANUTS-themed Whitman candy samplers come in a variety of sizes and are sure to inspire a (sugar) rush of great feelings. Available at grocery and convenience stores nationwide; starting at $1.29.
Dress your man in style. When your guy is the coolest of the cool, he's the perfect candidate for tees from Jay-Z's Rocawear, which combine the PEANUTS characters with Jay-Z's songs. "Venus vs. Mars" could have been written for the ever-sparring Lucy and Schroeder. Available for $28 at rocawear.com.
The PEANUTS characters and related intellectual property are owned by Peanuts Worldwide LLC, a joint venture owned 80% by Iconix Brand Group, Inc. and 20% by members of the Charles M. Schulz family. Iconix Brand Group, Inc. owns, licenses and markets a growing portfolio of consumer brands including Candie's (R), Bongo (R), Badgley Mischka (R), Joe Boxer (R), Rampage (R), Mudd (R), London Fog (R), Mossimo (R), Ocean Pacific(R), Danskin (R), Roca Wear(R), Cannon (R), Royal Velvet (R), Fieldcrest (R), Charisma (R), Starter (R) And Waverly (R). In Addition, Iconix Owns An Interest In The Artful Dodger (R), Ed Hardy (R), Ecko (R), Marc Ecko (R), Zoo York (R), Material Girl(Tm), and PEANUTS brands. The Company licenses its brands to a network of leading retailers and manufacturers that touch every major segment of retail distribution from the luxury market to the mass market in both the U.S. and worldwide. Through its in-house business development, merchandising, advertising and public relations departments Iconix manages its brands to drive greater consumer awareness and equity.
Media Contact
Alison Hill
714.444.9731, ext. 201
alison(at)currentpr(dot)com
# # #