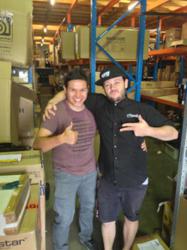 Kyle .... is now the worthy recipient of the percussion prize which includes the drum kit complete with ride, crash and hi-hat cymbals
Sydney, Australia (PRWEB) May 07, 2013
Over the last few months, Haworth Music Centre has run two separate competitions, both of which were free to enter. The Pearl Forum Drum Kit and Martin Ukelele Package winners have now been announced.
The company, which connects with its customers through the HaworthGuitars.com.au website, YouTube and Facebook, received thousands of entries for each competition.
Pearl Forum Drum Kit Prize
Haworth Managing Director, Glenn Haworth, announced the winner of the Pearl Forum Drum Kit to be Kyle Jacobs.
"Kyle submitted what we judged to be the most creative entry in the competition, and he is now the worthy recipient of the percussion prize which includes the drum kit complete with ride, crash and hi-hat cymbals" said Mr Haworth. "And we are even adding a pair of drumsticks, so that he can start drumming right now."
Martin Ukelele Prize
Ukeleles are becoming one of the fastest growing instrument lines at Haworth's, not in the least because the ukelele is being introduced into primary schools in place of the recorder. Mr Haworth attributes the rise in popularity to the fact that as the children get older, they are exploring the nuances of the instrument, and are investing in more sophisticated models.
"Not only that, but as parents see how easy it is to learn to play a ukelele, they are purchasing one for themselves - and these are adults who never thought they could play a musical instrument" explained Mr Haworth.
The Martin ukelele prize pack, with a retail price of over $1000, includes the Martin OXK Ukulele, gig bag, hard case, guitar stand, humidifier and stool.
"The winner of this sensational prize is Brendan Neville, who we decided sent us the most creative entry" announced Mr Haworth.
April has been a huge month for the Haworth team, with the two competitions being judged, and the opening of the businesses second music store, Haworth's Wollongong.
For more information about purchasing musical instruments and accessories in one of the Haworth stores, or online, visit http://www.haworthguitars.com.au
About Haworth Music Centre
Luthier, Phil Haworth established Haworth Guitars in 1999, with a focus on building and repairing stringed instruments. In 2000 the transition from workshop to retail space was made, and in 2008 the two-level Haworth's Music Centre, with adjacent Warehouse, was opened in Albion Park Rail, just south of Sydney, Australia.
Phil has returned to his love of guitar-building and the business is now run by his son, Glenn, who in 2011 became General Manager. The Haworth team is comprised of young people who live their passion for music and musical instruments.
Haworth's ability to remain very competitive in an online world rests with its warehousing capabilities and strong online presence.
Visit the Haworth website at HaworthGuitars.com.au (http://www.haworthguitars.com.au/)