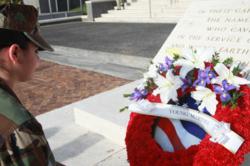 "Many Young Marines met survivors of the attack on Pearl Harbor," said Michael Kessler, national executive director of the Young Marines
Honolulu, HI (PRWEB) December 07, 2012
Yesterday, Thursday, Dec. 6, youth members of the Young Marines performed a wreath laying ceremony at the National Memorial Cemetery of the Pacific, Honolulu, HI, in memory of the brave men and women who are interred there.
Later today, Friday, Dec. 7, the Young Marines will lead the Pearl Harbor Memorial Parade in Honolulu. They are to carry the banners of the twelve capital ships that were attacked. The parade's objective is to honor the heroes and survivors of Pearl Harbor and World War II, to pay tribute to veterans, active duty military members and military families, to celebrate freedom and to keep in remembrance the heinous events of Dec. 7, 1941.
Sixty-eight youth members of the Young Marines from 11 states traveled to Hawaii to participate in the 71st anniversary Pearl Harbor Day Commemoration which includes the 50th anniversary of the dedication of the USS Arizona memorial site and the 71st anniversary of the attack on Pearl Harbor. In addition, 22 adult volunteers for the Young Marines accompanied the youth members.
"Many Young Marines met survivors of that historic event of 71 years ago," said Michael Kessler, national executive director of the Young Marines. "Those veterans are, in every sense of the words - living history, and each has a story to tell. It is an honor to attend an event that commemorates a significant turning point in our nation's history."
The involvement of the Young Marines was made possible with the help of Nadine L. Siak, public affairs specialist of the cemetery.
Young Marines units raised funds at their local level to supplement the costs of traveling to Hawaii to attend the commemoration ceremonies. The youths used their creativity, and applied the program's core values - leadership, teamwork and discipline - to implement unique and effective fundraising efforts.
"When the opportunity to travel to Hawaii arose, the members of the Young Marines started moving mountains in their fundraising efforts," Kessler said. "The result is a testament to the dedication of these young people."
The Young Marines is a national non-profit 501c(3) youth education and service program for boys and girls, age eight through the completion of high school. The Young Marines promotes the mental, moral and physical development of its members. The program focuses on teaching the values of leadership, teamwork and self-discipline so its members can live and promote a healthy, drug-free lifestyle.
Since the Young Marines' humble beginnings in 1959 with one unit and a handful of boys, the organization has grown to over 300 units with 10,000 youth and 3,000 adult volunteers in 46 states, the District of Columbia, Germany, Japan and affiliates in a host of other countries.
For more information, visit http://www.YoungMarines.com.