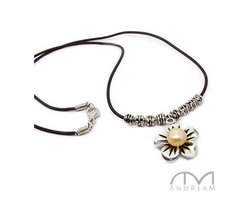 Every kiss begins with AndreaM
Livonia, MI (Vocus) July 31, 2010
As of yesterday, andreamjewel.com introduced 51 kinds of pearls, which injected new vitality into the website and provided more options for customers. Freshwater cultivated pearls with high quality and attractive prices make AndreaM more popular and competitive.
All the latest pearl jewelry issued by AndreaM is cultivated in Shanxia Lake –the famous Zhuji mussel farm in Zhejiang province which is an ideal natural habitat for pearl oysters. Rich oyster-breeding, little pollution and low breeding density on broad natural pearl farms are key to high quality. Further, the calm water conditions, abundant planktons, moderate water temperature, soft, sandy and rocky lake basin guarantee a unique and perfect living environment for pearl oysters.
Recently added Pearl jewelry included earrings, pendant, rings, necklaces and bracelets. The design of novel, the elegant appearance, the high quality and the attractive price will certainly make every visitor linger on and forget to return. AndreaM pearl may be not the most expressive but it is the most valuable, just as the slogan says, "Every kiss begins with AndreaM".
"The quality of AndreaM Pearl jewelry are 100% guaranteed. In order to celebrate the opening of the first online shop, we offer low prices to welcome new customers. Customers can get unique and cozy gifts for themselves as well as their families and friends," said Eric White, CEO of AndreaM. "We believe we can win the customers' trust and support through good quality and competitive prices and in the near future you will definitely get your share of excellent service concept of AndreaM".
Pearl is the perfect gift for every woman. Fashion-conscious or not, women will all be thrilled to have their own cultured pearls. "AndreaM is committed to fulfilling the dream for every woman. AndreaM pearls will be the best match for your outfit for special occasions, and also make your gift idea shining and perfect." said Eric White.
About Andreamjewel.com
Andreamjewel.com is the first online shop of AndreaM which specializes in cubic zirconia, crystal and pearl jewelry. The company devotes all efforts to keeping up with the fashion trends and providing fabulous jewelry with unique designs, excellent quality, as well as first-class services.
For more information, please visit: http://www.andreamjewel.com.
###